Chocolate Pumpkin
Buns | Recipe
Seduction in autumn
Text:
Katharina Kuhlmann
Photography:
© Roberta Dall Alba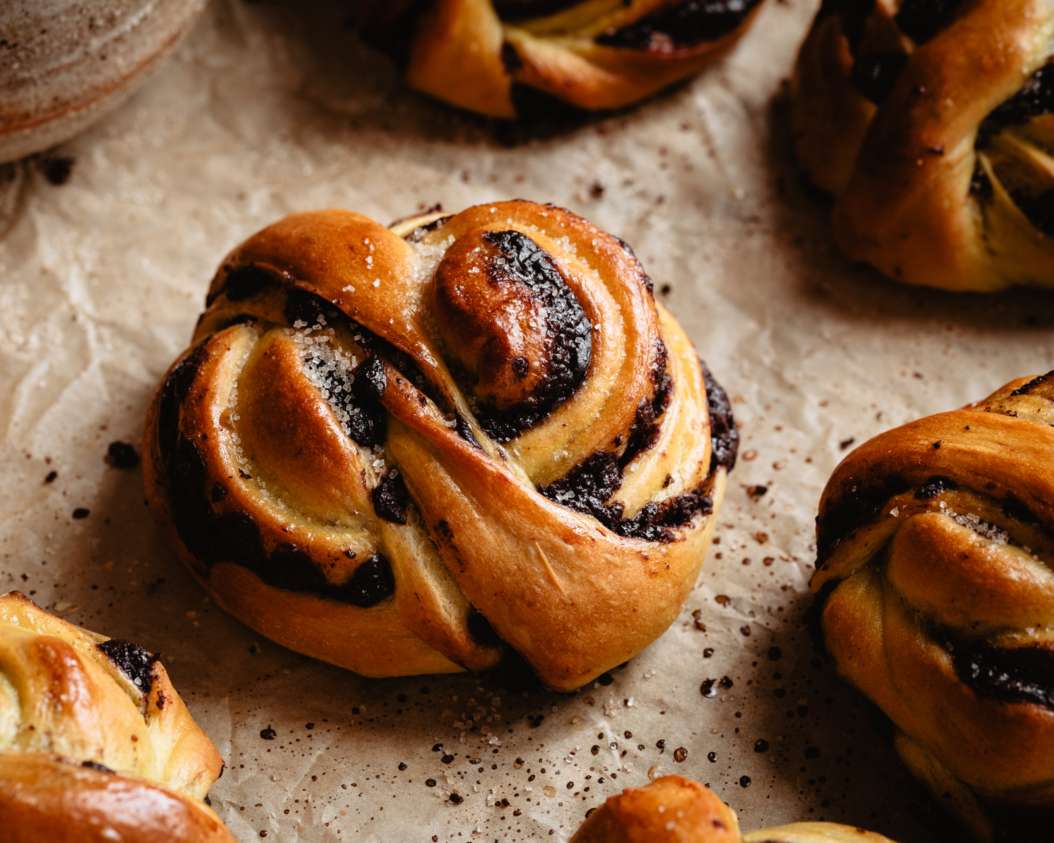 The smell of freshly baked buns is in the air. It's autumn and we're using pumpkin as a special seasonal ingredient for this sweet treat. Of course, chocolate shouldn't be missing either. VIVANI's 75 % Cocoa Chocolate with coconut blossom sugar conjures a great chocolate note in the buns.
butter (room temperature)
VIVANI Fine Dark 75 % Cocoa Chocolate (melted)
baking time
10 minutes
waiting / cooling time
1 hour
level of difficulty
medium
For the dough use a stand mixer: add yeast and milk into the bowl, then add sugar.
Activate stand mixer with flat beater at low speed.
Add pumpkin puree, a sprinkle of cinnamon and half of the egg (slightly beaten). Whisk until combined.
Increase to medium speed and gradually add white spelt flour and let combine.
Now add both butter and salt and let absorb.
Let knead for about 10 minutes or until you get a nice and smooth dough (add a tiny bit of flour if necessary).
Turn off stand mixer and cover the dough with a dish towel. Allow to rise in a warm place for 30 minutes or until doubled in size.
While the dough is rising make the filling: combine melted chocolate, softened butter, brown sugar, cocoa powder and a sprinkle of cinnamon.
Let it chill in the fridge until it gets firmer and creamy.
When the dough has doubled, turn it out on a well-floured surface and roll it out to a 40 x 50 cm rectangle using a rolling pin.
Spread the filling all over the dough except for the edges.
Fold the dough in half lengthways.
Using a pizza cutter, cut 16 strips widthways.
Take each strip and twist it to form a bun.
Place buns on a lined baking tray, cover again with the dish towel and let rise in a warm place for about 30 minutes or until doubled.
Preheat the oven at 200 °C.
Brush each bun with remaining beaten egg and bake for about 10 minutes or until golden brown.
Sprinkle with brown sugar.
Thanks for these great buns to Roberta Dall Alba from the Italian food-blog Healthy Little Cravings. We also love her fantastic cinemagraphs – real eye candy!
Verwandte Artikel
The Chocolate Journal