A good chocolate is much more than just a pure sweet. It is a valuable work of art. It is not simply produced, but is lovingly created through inspiration and passion. As a painter carefully chooses brushes, colors, and canvases, the same is true for the art of making chocolate. Every single ingredient is a splash of color, from the distinct signature of the creator, to the perfect staging of the object. All of this is crucial in order to create a work of art with a lasting and beautiful effect. Art that connects people and brings happiness.
Since 2000 we have been living out our dream of producing high-quality chocolates. What once began as a small business has now grown into a globally renowned brand, a brand that stands for sustainability and artistic pleasure in 50 countries across the world. As different as cultures, languages and preferences may be, the desire for chocolate is a constant denominator that unites connoisseurs from all over the world.
"It is said that art speaks many languages; the same is true with chocolate."
Andreas Meyer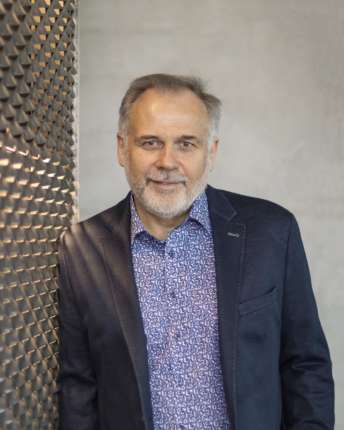 It was Andreas Meyer, a trained baker and certified nutritionist from Saureland in Westphalia, who developed the idea of creating an organic chocolate of the highest quality. Prior to that he had worked in various renowned organic and Fairtrade companies, and eventually decided to venture into self-employment by founding Ecofinia GmbH.
While the world philosophized about imminent computer crashes in 1999, Andreas Meyer was working on a chocolate line that would set sustainable accents of culinary pleasure for the upcoming millennium. It was in the traditional Herford house of Weinrich (a family-run chocolate factory with time-honored traditions) that he found the perfect production facility. And it was in Corde Budde Jr. the plants managing director that Andreas found a progressive thinking partner who was inspired early on by the meaning of ecological production.
Art knows no boundaries and chocolate is the sweetest form of its universal language.
An artistic design concept was developed over the course of the following years. Initially it was introduced in the form of the VIVANI mini-series "Edizione d'Arte", in which artist Annette Wessel introduced her prominent paintings onto our packaging for the very first time. Thanks to the popularity of the series, Wessel has decorated all of the VIVANI chocolate bars with various tasteful presentations since 2009. A stylistic technique that has definitely paid off. VIVANI began to flourish and became one of the most popular chocolates in Germany's organic markets. As well as a global export success that makes chocolate lovers' hearts beat fast all the way from New Zealand to Canada, Finland to South Africa and Singapore to Japan.