Black Forest Ice Pops | Recipe
Fresh ice-cream with fruity cherries
Text:
Katharina Kuhlmann
Photography:
Roberta Dall Alba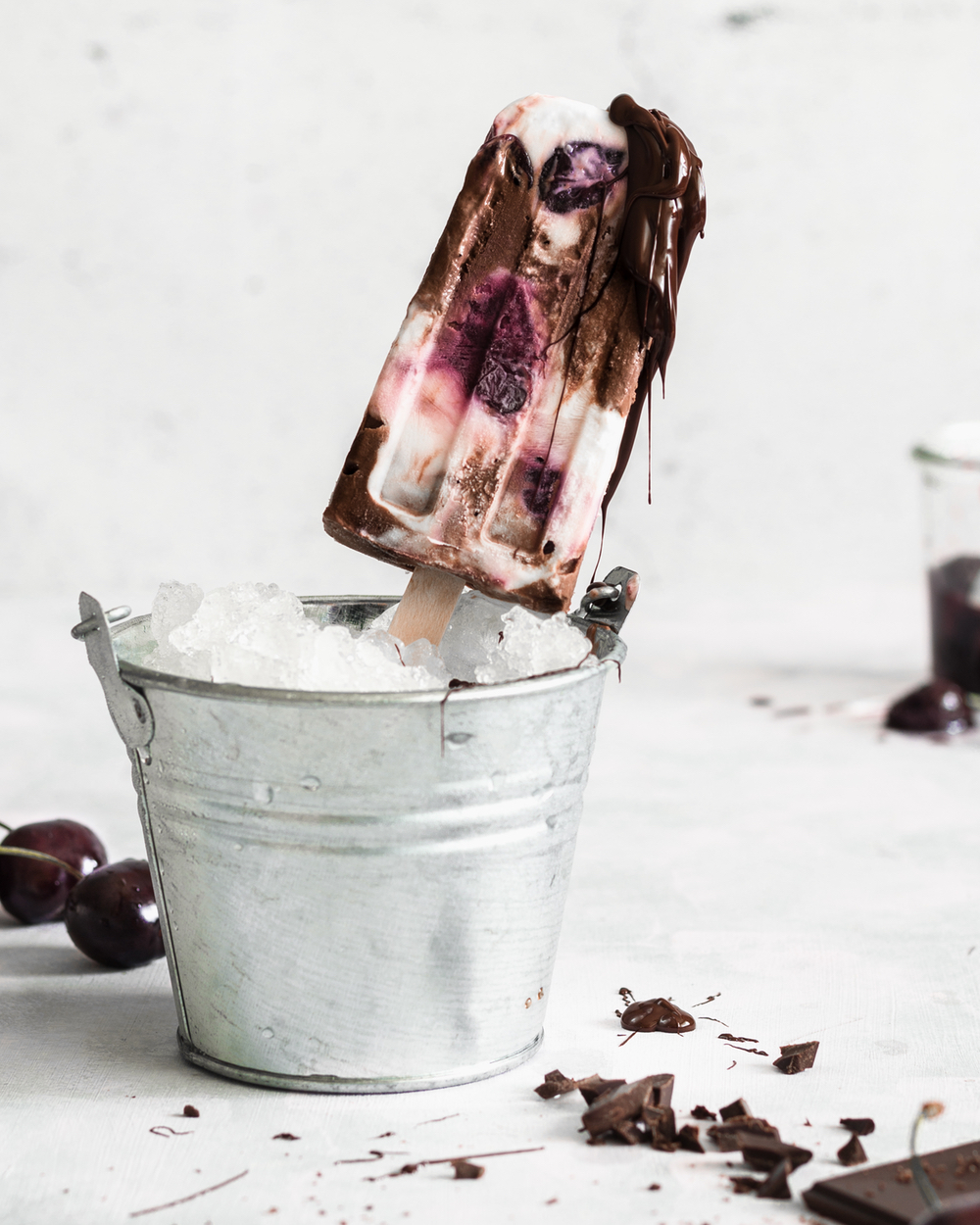 You probably know the famous German Black Forest Cake. This gateau made with chocolate, cherries, cherry brandy and a lot of cream is a classic and famous all over the world. Our today`s recipe is a Black Forest Cake as a popsicle. It's without cherry brandy, so it's non-alcoholic. And instead of cream we use Greek yoghurt – less calories, more freshness.
fresh cherries (with stones)
VIVANI Fine Dark 75 % Cacao
waiting / cooling time
4 hours
level of difficulty
easy
Clean and pit the cherries. In a pan add cherries, water and sugar and let it caramelize. Add a few drops of vanilla extract and lemon juice to balance flavors. You should end up with syrupy deep red cherries. Let them cool.
For the chocolate layer heat the chocolate in a bain-marie to slowly melt it. Let it cool down a minute, add the milk and immediately whisk with a spatula to prevent it gets firmer.
Then add the greek yogurt and whisk quickly. You should end up with a sort of fudge. Set aside.
Take your popsicles molds and start layering 1 teaspoon of cherries, 1 teaspoon of chocolate fudge, 1 teaspoon of greek yogurt (white layer) and so on.
Freeze the popsicles for 4 hours at least.
Decorate with a drizzle of chocolate.
Thanks for this great recipe to Roberta Dall Alba from the Italian food-blog Healthy Little Cravings. We also love her fantastic cinemagraphs – real eye candy!
Related
If you like it, you also like ...
Recipes