Choco Cupcakes with Meringue | Recipe
Chocolate seduction with gorgeous, sweet hat
Text:
Katharina Kuhlmann
Photography:
Roberta Dall Alba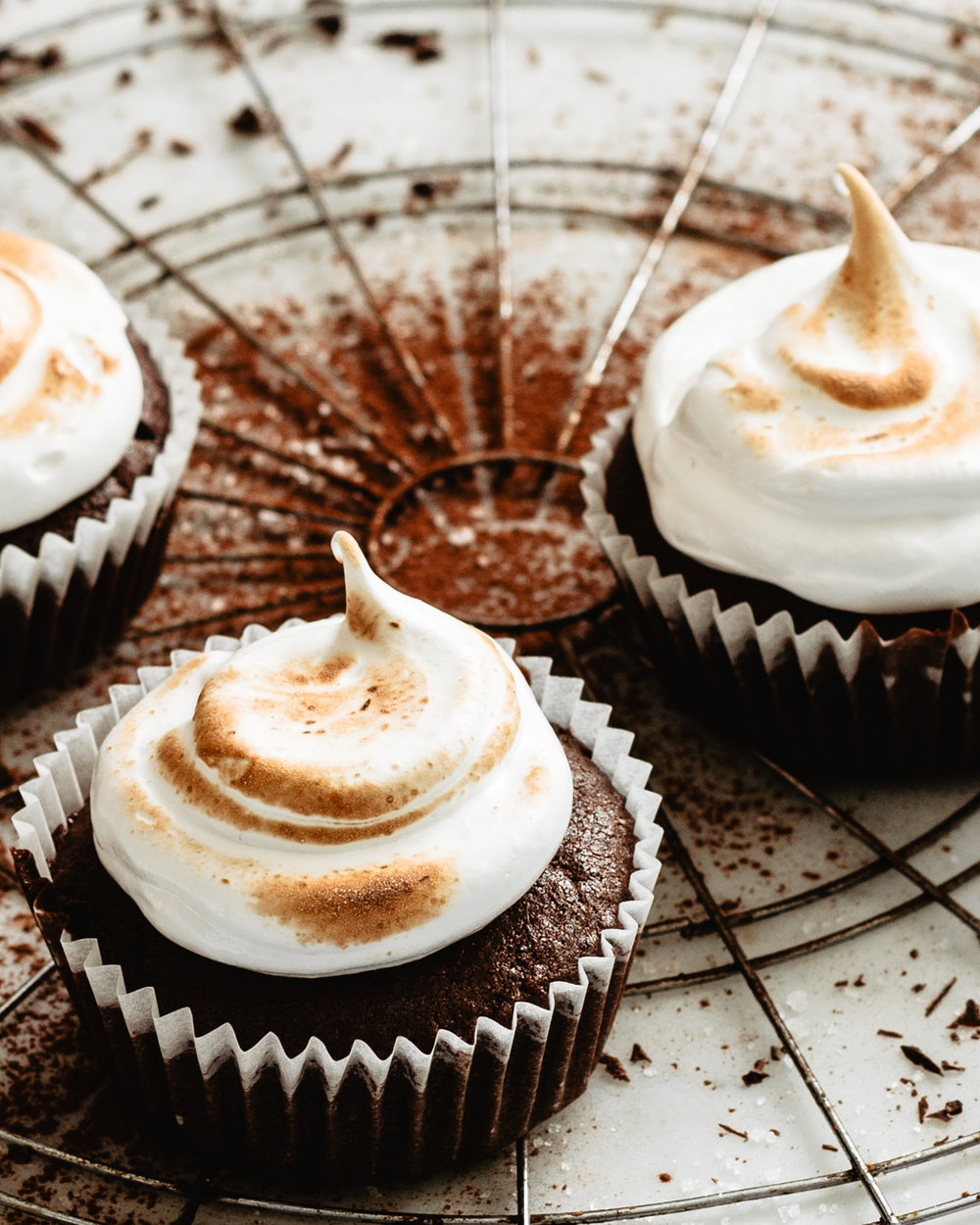 These chocolate cupcakes are something very special. They each contain an extra piece of chocolate in their chocolate dough. The whole thing is topped with a delicious meringue, which is not baked, but only briefly burnt with a kitchen torch. This gives the meringue an appetizing tan - you can hardly wait to finally bite into it.
butter (at room temperature)
eggs (at room temperature)
egg whites (at room temperature)
baking time
25 minutes
level of difficulty
medium
Preheat the oven at 175 ° C.
In a bowl, using a hand mixer, whisk butter and brown sugar until fluffy. Add the eggs and beat until combined.
Pour in coffee, vanilla, milk and melted 60 g chocolate and stir with a spatula.
Add cocoa powder, salt, flour, baking powder and stir again with a spatula (but do not overmix). Add the 12 chocolate pieces and stir.
Line a muffin tin with cupcake liners. Fill each cupcake liner 3/4 full (use an ice cream scoop). Make sure, that there's one piece of chocolate in each cupcake.
Bake for 25 minutes until the cupcakes are fully cooked (test with a toothpick). Let them cool down completely.
For the meringue bring some water to a boil and turn off the heat.
Pour the egg whites into a clean bowl, add the sugar, a pinch of salt and some drops of lemon juice, then place the bowl onto the pot full of hot water.
Immediately start beating the egg whites until fluffy, thick and glossy.
Decorate the cupcakes with the meringue and use a kitchen torch to brown them. Attention: do not burn the paper cupcake liners.
Thanks for this beautiful cupcakes to Roberta Dall Alba from the Italian food-blog Healthy Little Cravings. We also love her fantastic cinemagraphs – real eye candy!
Related
If you like it, you also like ...
Recipes
Verwandte Artikel
The Chocolate Journal