News 2020
Stay up-to-date with VIVANI
NOW AVAILABLE 
With the two new vegan chocolate varieties "Bitter Mallorca Salt" and "Bitter Caramel Mallorca Salt", we will take you on a culinary journey to the Balearic Islands, or more precisely to the beautiful natural beach Playa d'Es Trenc. This is where the gourmet salt Flor de Sal comes from, which gives the two novelties their unmistakable character.
ASK YOUR WHOLESALER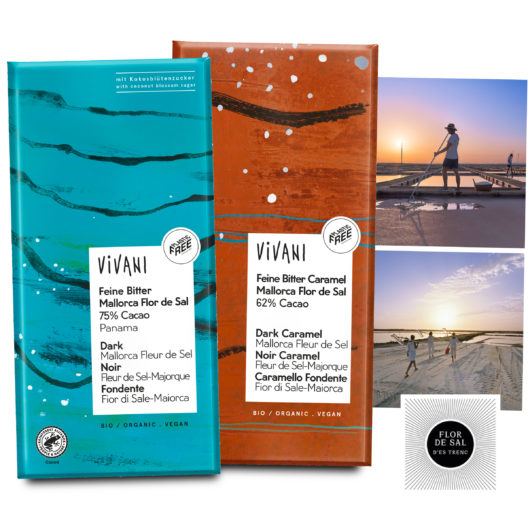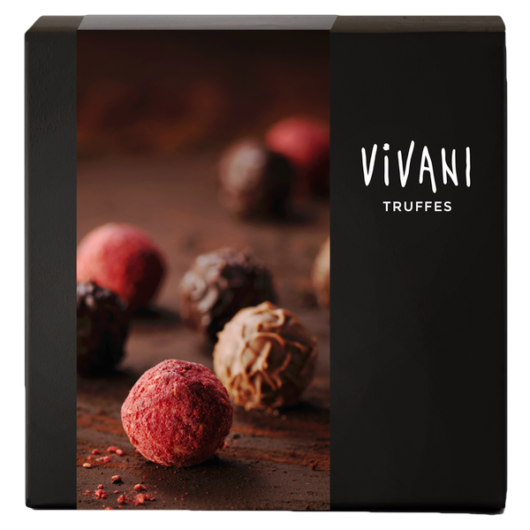 VIVANI Truffes | chocolate truffles
   SEASONAL PRODUCT – AGAIN AVAILABLE IN SEPTEMBER 2021
ART.N° 6234710
3 x 3 finest handmade chocolate truffles filled with delicate espresso cream, raspberry cream and hazelnut nougat. High quality packed in an elegant design box.
100 g.

Superior Dark 100 % Cocoa + Nibs
ART.N° 6239400

The new variety "Superior Dark 100+" is the ultimate chocolate for chocoholics. 100% fine Dominican cocoa, 5% crunchy cocoa nibs, no added sugar. 80 g.
---
White Hemp Caramel
ART.N° 6239334
Smooth, white chocolate with caramelised hemp seeds, genuine Bourbon vanilla and fine Fleur de Sel. 80 g.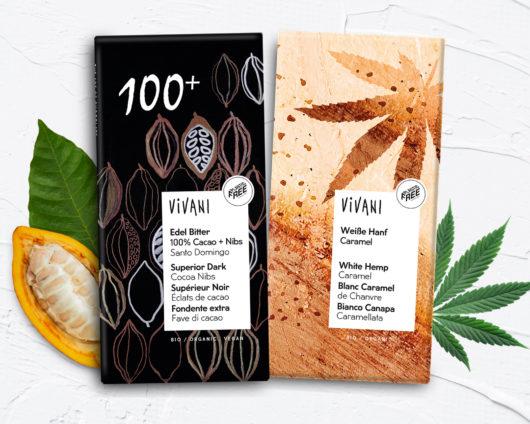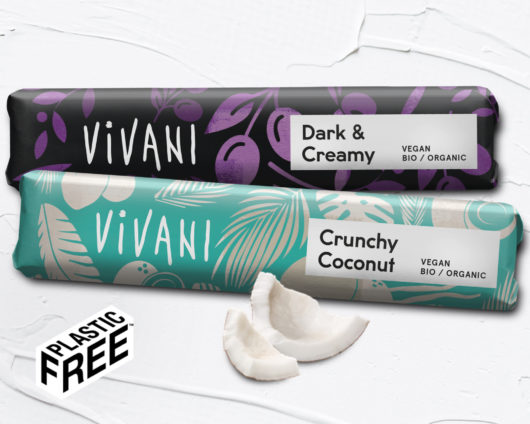 Crunchy Coconut | ART.N° 6239560

This chocolate bar with coconut purée and delicious roasted coconut flakes is the perfect vegan companion for on the go. Super smooth, super creamy. And, as with all VIVANI chocolate bars, it comes in eco-friendly packaging. 35 g.
---
Dark & Creamy | ART.N° 6239532
A creamy and smooth snack for fans of dark chocolate. Made from fine Dominican cocoa and with an extremely creamy texture, despite being vegan, thanks to a subtle addition of olive oil. 35 g.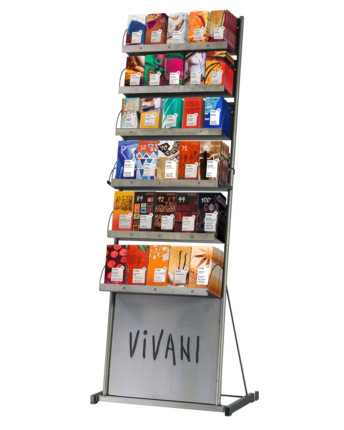 THE TOPSELLER: VIVANI DEPOT | 30 VARIETIES
As a space-saving "all-in-one" solution, our VIVANI floor stand sets colorful accents at the POS.
The sturdy display is made of stainless steel and can accommodate 30 types of VIVANI chocolate flavours (in total 304 bars). Your customers will surely find their favourites.
ART.N° 6239944
Measures
H: 162 cm
W: 59 cm
D: 47 cm
Weight
15,7 kg (empty)
THE ELEGANT ONE: COUNTERTOP MERCHANDISER | 9 VARIETIES

Variety of chocolate in the smallest space. Its slim design allows 9 different types of VIVANI (10 bars each) to be elegantly placed on the counter. Perfect for the cash register area.
ART.N° 623995405
Measures
H: 71 cm
W: 24 cm
D: 28 cm
Weight
15 kg (filled)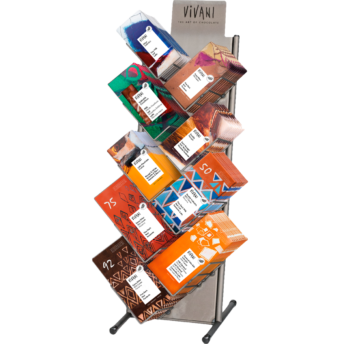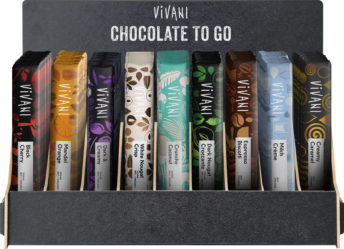 CHOCOLATE TO GO |
DISPLAY FOR 9 VARIETIES

This extremely compact and stable counter display based on the "Werkhaus" principle offers space for all 9 VIVANI chocolate bar varieties – a total of 90 bars. And all this in a very small space.
ART.N° 623995411
Dimensions
height: 19 cm
width: 31 cm
depth: 20 cm
!!DISPLAY FREE OF CHARGE! You only pay for the filling.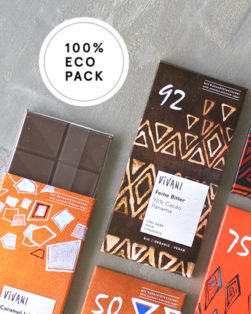 Bild vergrößern
It's not plastic - but sustainable!
Yes, it is true! The inner wrapping foil of our chocolates looks exactly like plastic, but in fact is a sustainable foil made on the basis of wood fibre. It is even fully compostable!
>> Download a facebook-optimized factsheet about our compostable Natureflex foil right here. [jpg format | 1200 x 1600 px]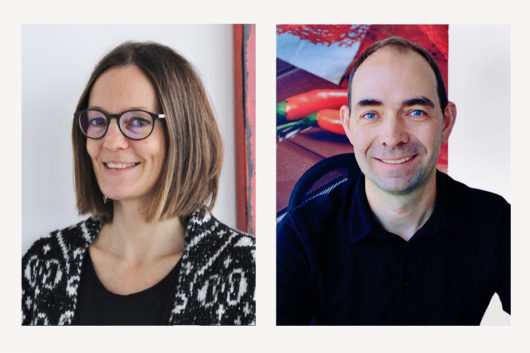 YOUR CONTACTS

Sabine Arndt-Ellerhold | Sales Export
Fon: +49 [0]234 54449350
Fax: +49 [0]234 54449361
E-Mail: sales[at]ecofinia.de
---
Christoph Kampschulte | Head of Sales | Export
Fon: +49 [0]234 54449362
Fax: +49 [0]234 54449361
E-Mail: sales[at]ecofinia.de
Any questions or requests?
Please contact us
Just fill out the following contact form