News 2023
Stay up-to-date with VIVANI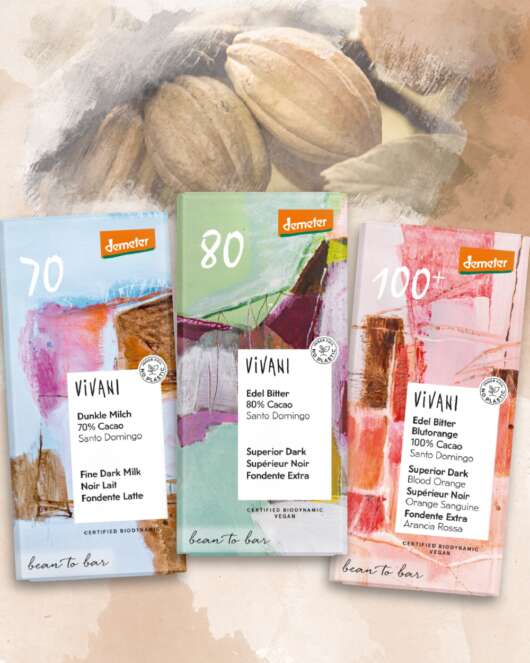 FIRST DEMETER CHOCOLATES
Our own cultivation project for particularly ecologically and fairly produced cocoa, now our first Demeter chocolate line. VIVANI shows ecological responsibility.
The Demeter cocoa in the new trio of bars comes from 3 fincas in the Dominican Republic and is 100% traceable. For the production of the chocolates, it is processed according to the "bean-to-bar" principle, i.e. from the roasting of the bean onwards in the company's own factory. A special quality criterion among chocolate lovers.
---
FINE DARK MILK 70 %
Demeter | Bean-to-Bar | 90 g
The unusual composition "Dark Milk" is a real product innovation. With a high cocoa content of 70 %, this milk chocolate is an interesting taste experience for bitter fans and milk enthusiasts alike. Delicately creamy, with an extremely low sugar content – by milk chocolate standards.
SUPERIOR DARK 80%
Demeter | Bean-to-Bar | vegan | 90 g
A strong cocoa note meets subtle sweetness. This dark chocolate with 80% Dominican cocoa is a highlight for all lovers of dark, pure chocolates with unmistakable cocoa flavours.
SUPERIOR DARK BLOOD ORANGE 100%
Demeter | Bean-to-Bar | vegan | 90 g
Puristic cocoa pleasure with ingredients exclusively from the cocoa bean: cocoa mass, butter and powder – completely without added sugar and therefore ideally suited for a sugar-free diet. A tiny drop of essential blood orange oil brings a fine fruity note into play alongside the strong fine flavours of cocoa.
A LITTLE BIT(E) OF MALLORCA 
With the two vegan chocolate varieties "Dark Mallorca Salt" and "Dark Caramel Mallorca Salt", we will take you on a culinary journey to the Balearic Islands, or more precisely to the beautiful natural beach Playa d'Es Trenc. This is where the gourmet salt Flor de Sal comes from, which gives the two novelties their unmistakable character.
ASK YOUR WHOLESALER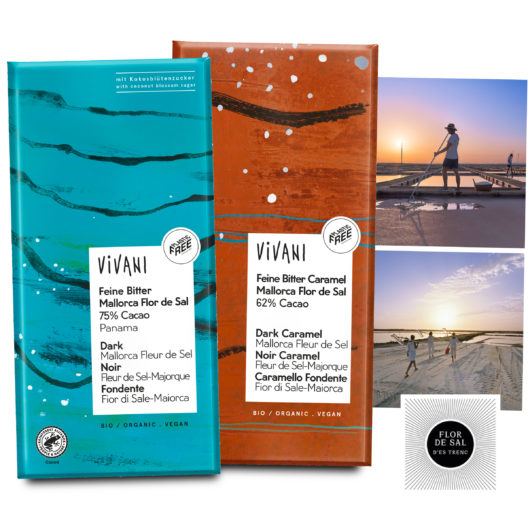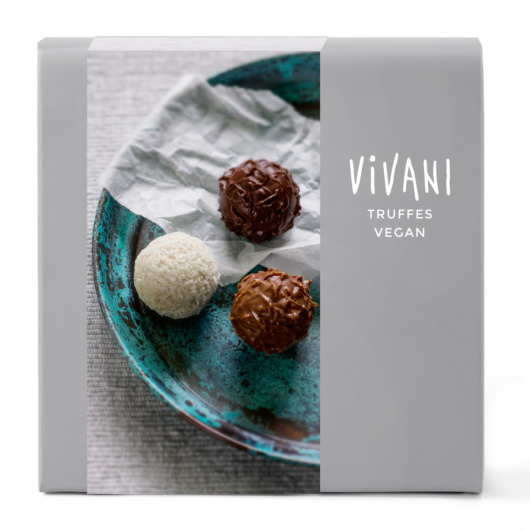 VIVANI Truffes vegan | chocolate truffles
 SEASONAL PRODUCT – AVAILABLE FROM SEPTEMBER 2023
ART.N° 6234711
3 x 3 finest handmade vegan chocolate truffles filled with delicate plant-based espresso cream, coconut cream and salted caramel. High quality packed in an elegant design box.
100 g.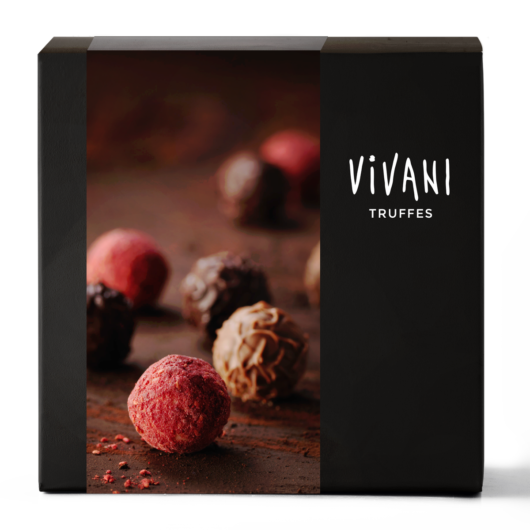 VIVANI Truffes | chocolate truffles
 SEASONAL PRODUCT – AVAILABLE FROM SEPTEMBER 2023
ART.N° 6234710
3 x 3 finest handmade chocolate truffles filled with delicate espresso cream, raspberry cream and hazelnut nougat. High quality packed in an elegant design box.
100 g.

Superior Dark 100 % Cocoa + Nibs
ART.N° 6239400

The new variety "Superior Dark 100+" is the ultimate chocolate for chocoholics. 100% fine Dominican cocoa, 5% crunchy cocoa nibs, no added sugar. 80 g.
---
White Hemp Caramel
ART.N° 6239334
Smooth, white chocolate with caramelised hemp seeds, genuine Bourbon vanilla and fine Fleur de Sel. 80 g.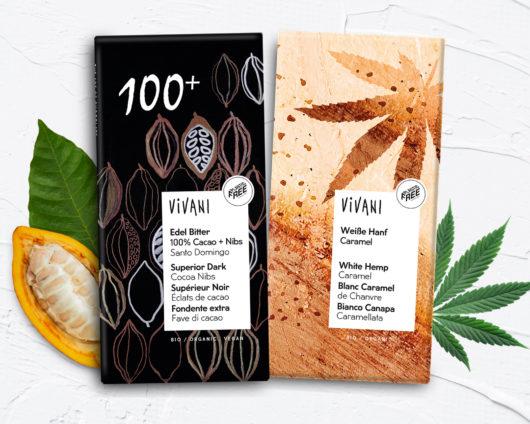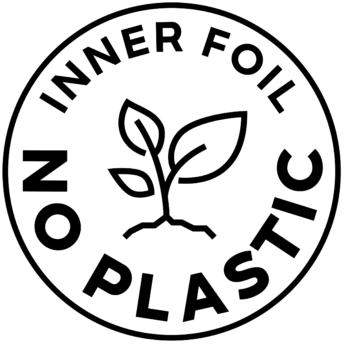 PLASTIC-FREE PACKAGING
All VIVANI chocolate bars, chocolate snacks and cooking chocolates are packaged completely ecologically and printed with mineral oil-free inks.
The chocolate is protected by a cellulose film that looks like common plastic but is made from sustainable raw materials (wood fibre-based). The film is biodegradable and can be easily home composted.
To avoid irritation due to the resemblance to plastic, an INNER FOIL NO PLASTIC symbol on the packaging helps with orientation in the search for plastic-free products.
All information on ecological packaging can be found at vivani.de/sustainable-packaging.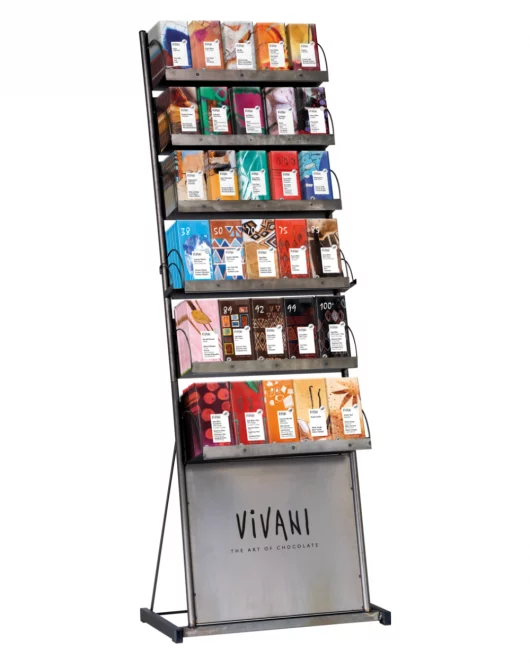 THE TOPSELLER: VIVANI DEPOT | 30 VARIETIES
As a space-saving "all-in-one" solution, our VIVANI floor stand sets colorful accents at the POS.
The sturdy display is made of stainless steel and can accommodate 30 types of VIVANI chocolate flavours (in total 304 bars). Your customers will surely find their favourites.
ART.N° 6239944
Measures
H: 162 cm
W: 59 cm
D: 47 cm
Weight
15,7 kg (empty)
THE ELEGANT ONE: COUNTERTOP MERCHANDISER | 9 VARIETIES

Variety of chocolate in the smallest space. Its slim design allows 9 different types of VIVANI (10 bars each) to be elegantly placed on the counter. Perfect for the cash register area.
ART.N° 623995405
Measures
H: 71 cm
W: 24 cm
D: 28 cm
Weight
15 kg (filled)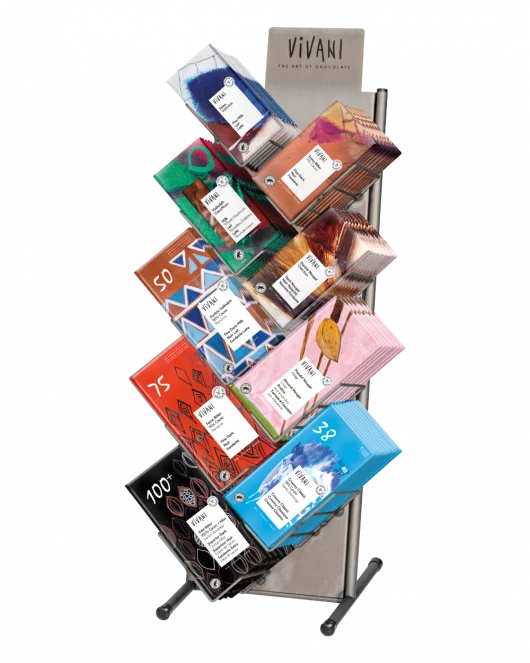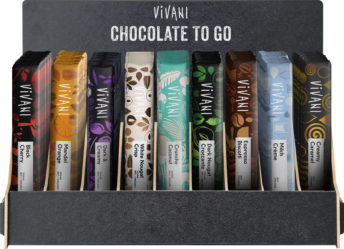 CHOCOLATE TO GO |
DISPLAY FOR 9 VARIETIES

This extremely compact and stable counter display based on the "Werkhaus" principle offers space for all 9 VIVANI chocolate bar varieties – a total of 90 bars. And all this in a very small space.
ART.N° 623995411
Dimensions
height: 19 cm
width: 31 cm
depth: 20 cm
!!DISPLAY FREE OF CHARGE! You only pay for the filling.
Any questions or requests?
Please contact us
Just fill out the following contact form