Mole Cake | Recipe
fruity with bananas and raspberries
Text:
Katharina Kuhlmann
Photography:
© Lena Fuchs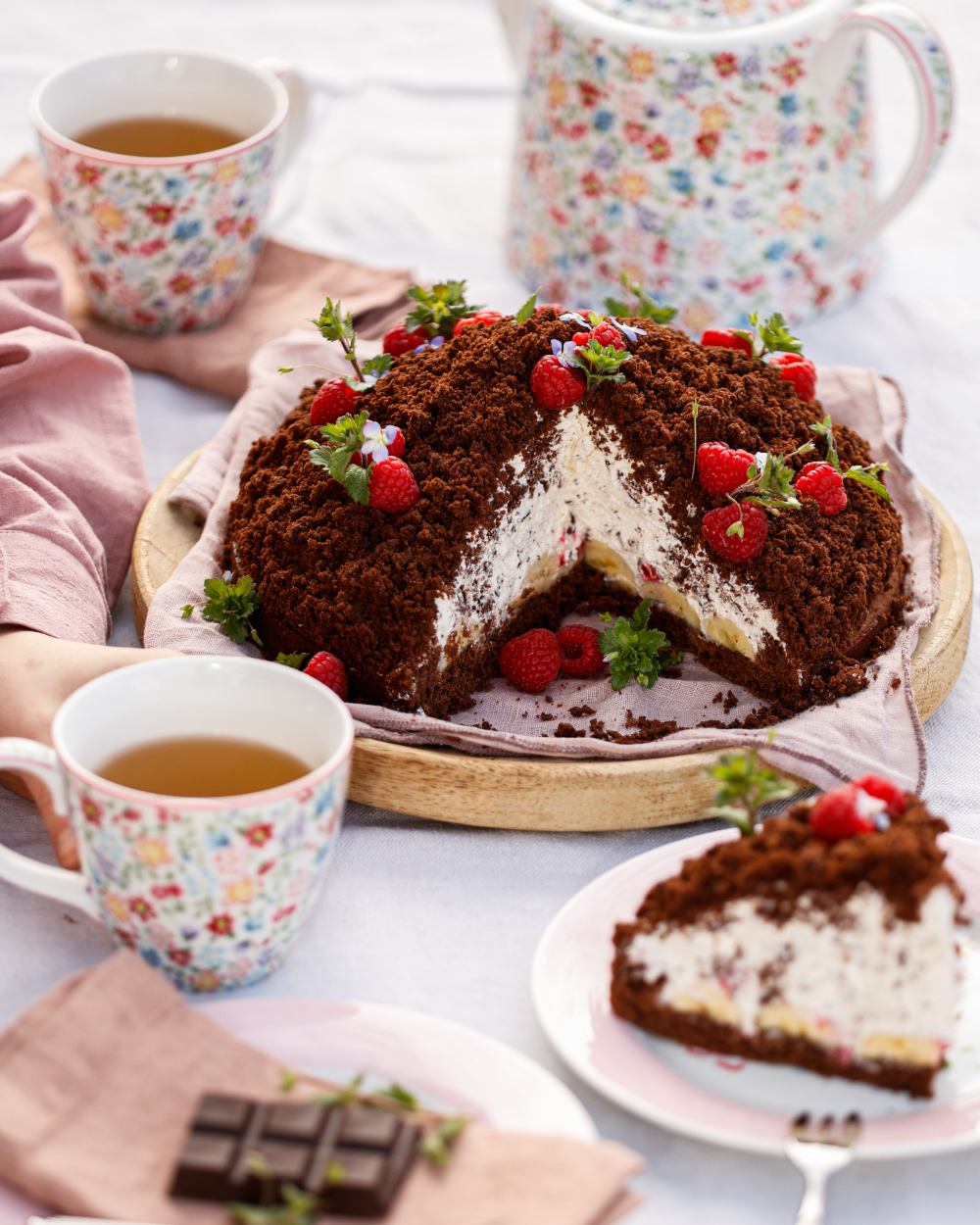 The mole cake is one of those traditions where, in the end, no one can say for sure where it actually came from. Some people say it may have come from England, English baking bloggers talk about "German Mole Cake" and others believe that the German food company Dr. Oetker invented it as a baking mixture. But we don't really care, because this cake is not only a funny gag, it also tastes fantastic. Bananas and a dome of cream are layered over a chocolate base. The perfect mound look is achieved with crumbled chocolate base. We also add fresh raspberries to make it even fruitier.
For a springform pan with Ø 26 cm
butter + a little more for the tin
VIVANI Dark Cooking Chocolate
cream of tartar baking powder
baking cocoa powder + a little more for the tin
VIVANI Dark Cooking Chocolate
baking time
20-22 minutes
level of difficulty
medium
Butter the springform pan and dust with cocoa powder. Preheat the oven to 170 °C hot air.
For the base, melt the butter with the cooking chocolate in a pan over a low heat.
Whip the eggs and sugar with a food processor until creamy. Slowly add milk and the melted butter-chocolate mixture to the beaten eggs.
Mix flour with baking powder, cocoa powder and salt and carefully fold into the mixture with a whisk.
Pour the batter into the prepared tin and bake for 20-22 minutes. Then leave to cool completely.
Scoop out about 1.5-2 cm of the cake surface with a spoon - leaving about a 2 cm margin. Crumble the scraped cake base and set aside.
Spread the top of the cake with raspberry jam. Peel the bananas and cut them in half lengthwise (quarter them if necessary). Spread on the base until everything is covered. Then spread the raspberries on top of the bananas.
For the filling, whip the cream until stiff. Finely chop the cooking chocolate and stir into the whipped cream with the icing sugar and vanilla.
Spread the cream over the cake and shape into a 'mound' with a spatula.
Spread the cake crumbs all around the cream mound and press down lightly to create the appearance of an earthy molehill
Cool until ready to serve. Decorate with raspberries, herbs or flowers if desired.
Related
If you like it, you also like ...
Recipes