Pistachio
Dark Chocolate
Bundt Cake | Recipe
luxurious chocolate seduction with fine pistachios
Text:
Katharina Kuhlmann
Photography:
© Roberta Dall Alba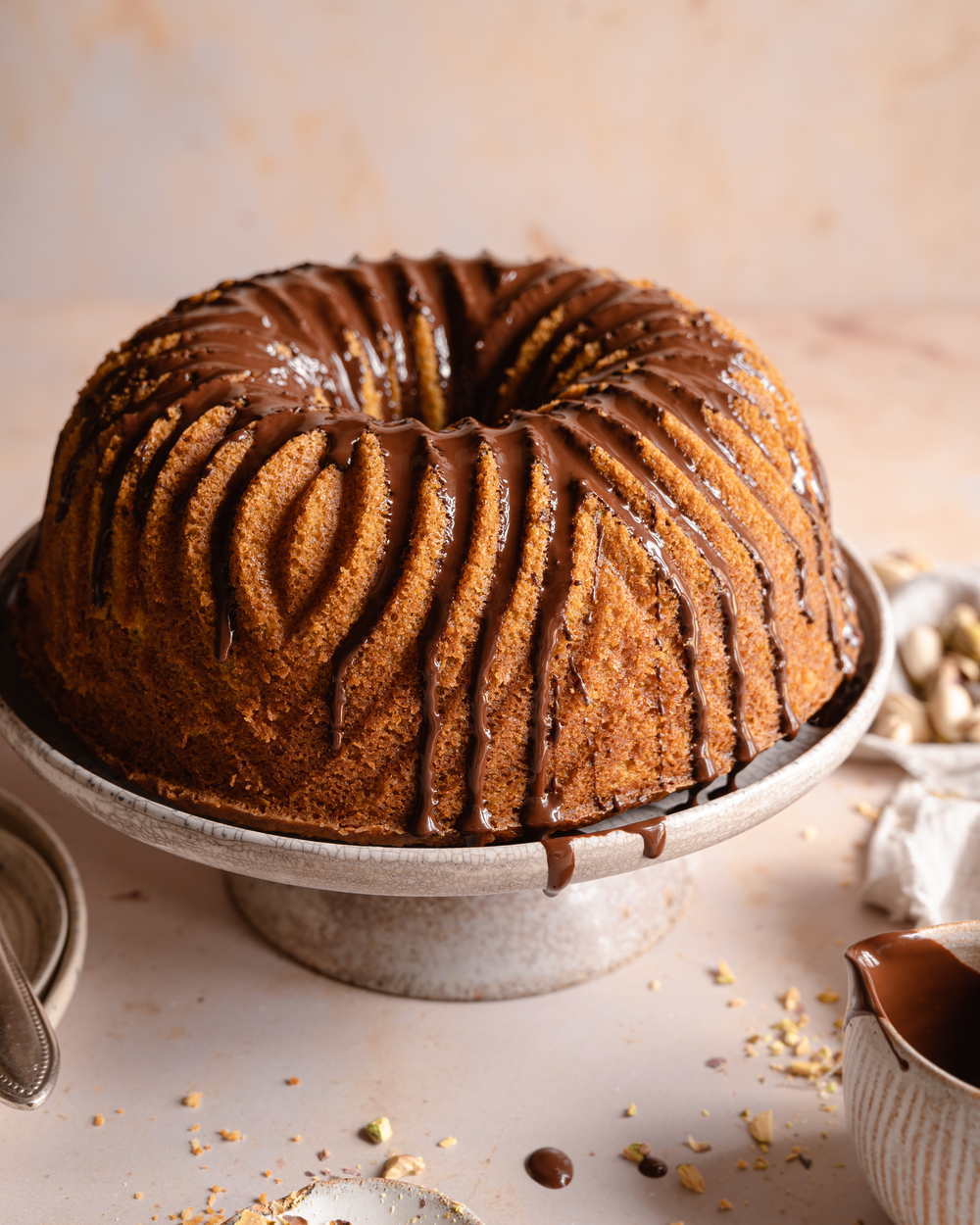 Pistachios and dark chocolate are a great pairing. The fine, nutty-buttery flavour of the pistachios is wonderfully complemented by the aromas of the dark cooking chocolate. Furthermore, the bundt cake covered in chocolate is also a real eye-candy.
butter (at room temperature)
(or more) VIVANI Dark Cooking Chocolate
baking time
65 minutes
level of difficulty
easy
Preheat the oven to 175 ° C.
In a bowl of a stand mixer (or regular bowl + a hand mixer), beat butter and sugar for two minutes.
Gradually add each of the 5 eggs until incorporated. Then add yogurt, pistachio yogurt and pistachio spread and incorporate for about 30 seconds.
Also add the flour, salt and baking powder and mix with a spatula, checking for lumps.
Grease a bundt cake pan and dust very well with flour. Fill in the dough and bake for about 65 minutes (check with a toothpick – if it comes out clean, the cake is ready).
Let it cool down in the pan for about 10 minutes. Then turn the cake upside down and remove the form. Let cool down completely on a cooling rack.
Garnish with melted chocolate and ground pistachios.
Thanks for this fantastic bundt cake to Roberta Dall Alba from the Italian food-blog Healthy Little Cravings.
Related
If you like it, you also like ...
Recipes
Verwandte Artikel
The Chocolate Journal