The German classic: "Nussecken" | Recipe
triangular nut pastry, vegan edition
Text:
Katharina Kuhlmann
Photography:
© spinglane.de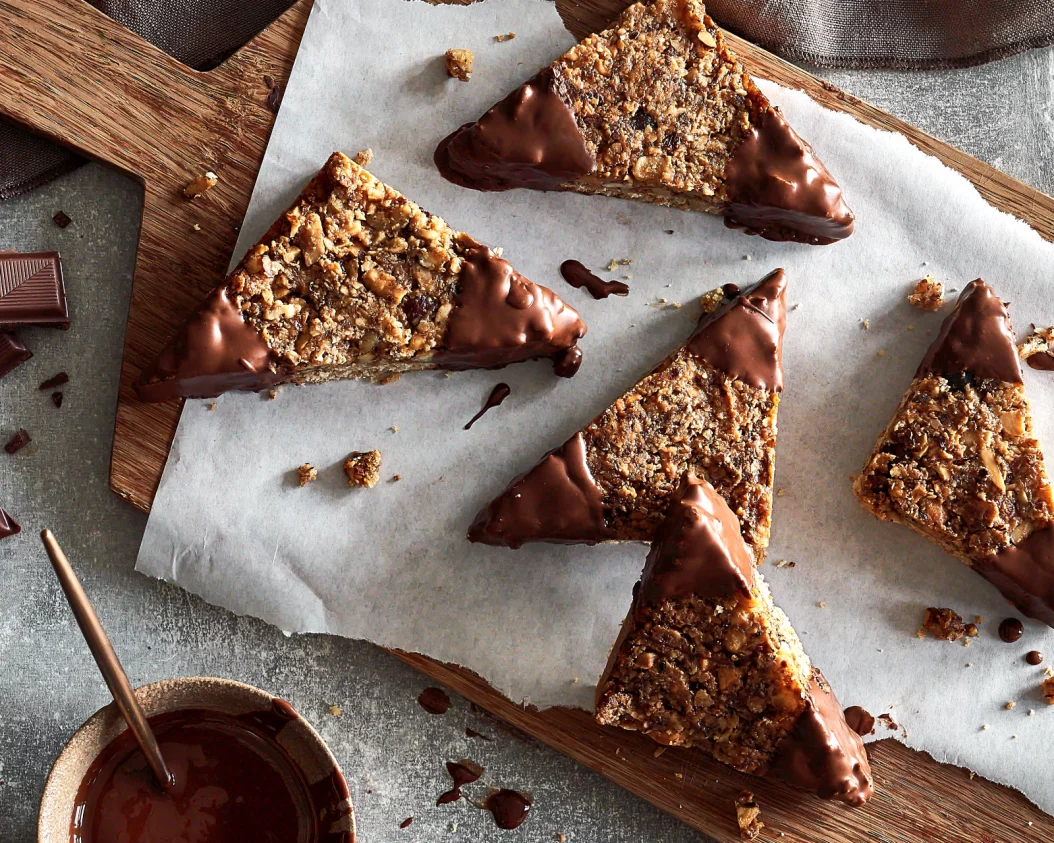 Have you ever heard of "Nussecken"? This pastry is a true classic of German baking art and was already invented in 18th century Bavaria. "Nussecken" consist of three layers: The shortcrust base is spread with jam and topped with a roasted nut mixture. After baking, two corners of the triangle are often glazed with chocolate. For today's version, which is also vegan, three different types of nuts are used.
For 18 pieces (square baking tin with approx. 24 x 24 cm)
VIVANI Dark Nougat Chocolate
baking time
30 minutes
waiting / cooling time
30 minutes
level of difficulty
medium
For the base, mix the flour, baking powder, salt, sugar and vanilla sugar in a bowl. Knead the cold margarine into the flour mixture in pieces with the dough hooks of a hand mixer or food processor until the dough is crumbly.
Then add the ice water and stir in. Knead with your hands until a homogeneous dough is formed. Shape into a ball, cover and chill for at least 30 minutes.
Meanwhile, for the nut mixture, chop the cashews, pecans and hazelnuts. Melt the margarine with the sugar and water in a saucepan over medium heat. Stir in all the chopped and ground nuts and simmer briefly until a sticky mixture forms. Remove from the heat and set aside.
Preheat the oven to 160 °C top/bottom heat and grease the tin. Roll out the pastry slightly and press it evenly into the tin to form a base. Prick several times with a fork and spread evenly with jam.
Now spread the nut mixture over the top. Spread evenly with a spoon or spatula, applying a little pressure, so that the surface is smooth. Bake in a hot oven for about 30 minutes until golden brown and then leave to cool.
Remove the pastry from the tin. First cut into squares. Then cut them in half diagonally to form 18 triangles.
Chop the chocolate. Melt about 2/3 in a bain-marie. Carefully remove from the water (no water or steam should get into the chocolate), stir in the remaining chocolate and let it melt as well.
Then dip the "Nussecken" with two corners into the chocolate and leave to harden on a cake rack. To glaze the pastry easily and evenly, transfer the chocolate mixture to a small, rather tall container, e.g. a preheated espresso cup.
Related
If you like it, you also like ...
Recipes