Dark Praline
Cookies | Recipe
vegan "Dark Nougat" chocolate bombs with hazelnuts
Text:
Katharina Kuhlmann
Photography:
© Holly Jade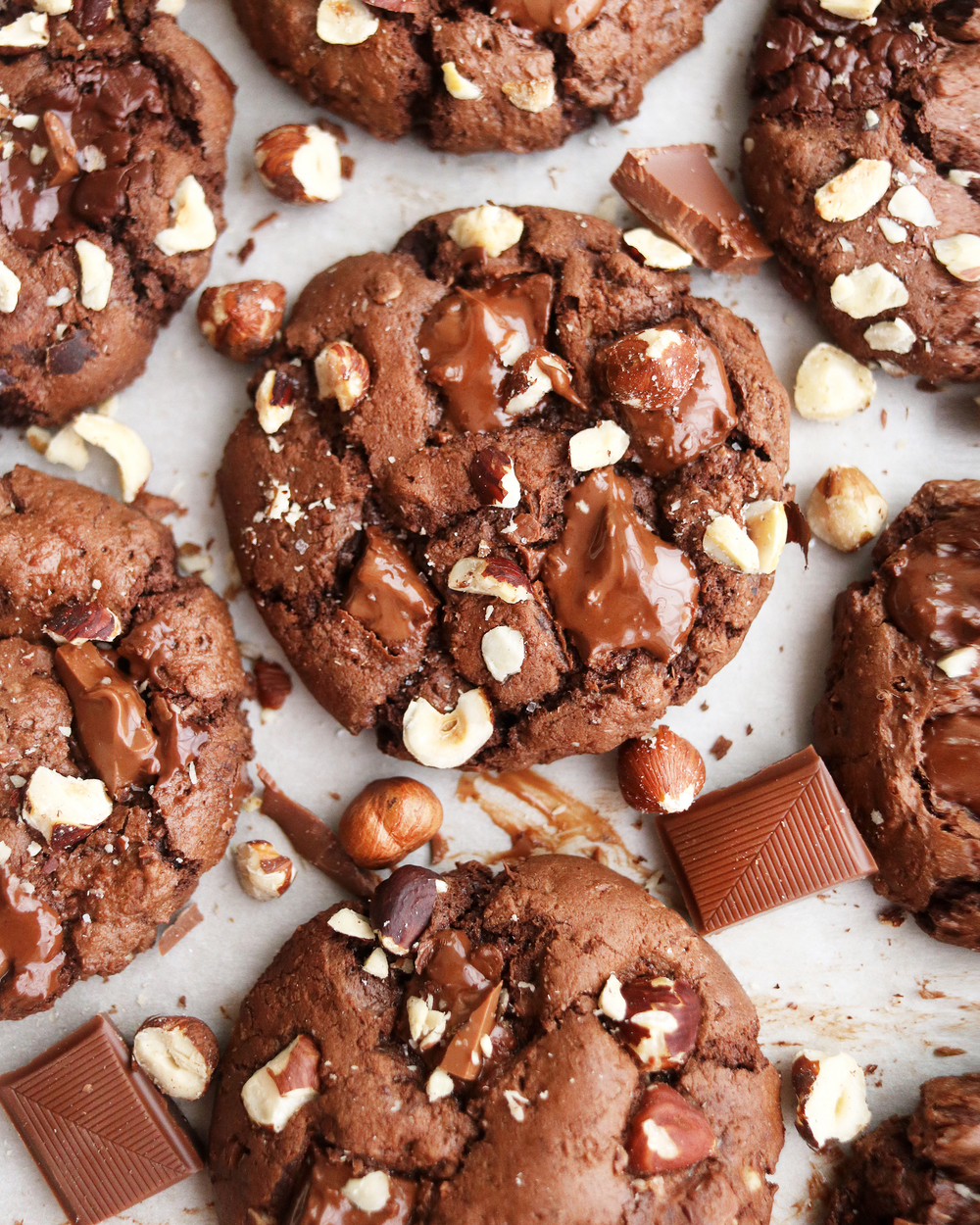 You love cookies? You adore chocolate? We have the American classic chocolate chip cookies for you today in a vegan version. With lots of Dark Nougat Chocolate and chopped nuts, these cookies are a true dream. It's best to eat them lukewarm, then the chocolate core is still a bit liquid. If you like, sprinkle a pinch of sea salt on top.
VIVANI Dark Nougat Chocolate
hazelnut butter / any nut butter
aquafaba (chickpea brine)
hazelnuts (roughly chopped)
VIVANI Dark Nougat Chocolate (roughly chopped)
working time
10 minutes
baking time
12 - 14 minutes
level of difficulty
easy
Preheat the oven to 180 °C fan, and line a baking tray with greaseproof paper.
In a small saucepan, add in the chocolate and nut butter, over low heat, stir, melt together then set aside.
Pour the aquafaba into a large mixing bowl and whip up until frothy. This will take around 5 minutes on high speed using a stand mixer with a balloon whisk attachment or an electric hand whisk.
Add in the sugar a little at a time whilst the mixer is still whipping. After around 5 minutes with the sugar incorporating, the mixture should turn thick and glossy. Pour in the melted chocolate and nut butter mixture and whip to incorporate.
Sift in the flour, cocoa powder and bicarbonate of soda. Mix until fully combined, then fold in the roughly chopped hazelnuts and 50 g of roughly chopped chocolate. This batter is quite wet so it's best to use an ice cream scoop or spoon to form it into balls.
Scoop approximately 1 – 2 tablespoons of dough into balls, press a chunk of Vivani Dark Nougat Chocolate into the centre of each cookie dough ball then place onto the lined tray and press down with the palm of your hand to flatten slightly. Repeat for all of the cookies.
Before baking, optionally add a few more chocolate chunks and chopped hazelnuts on top.
Pop the cookies into the oven and bake for 12 – 14 minutes. Once baked, remove them from the oven and allow them to cool. They will be soft at first, but as they cool down, they will set and crisp off. Best enjoyed warm, the core will be still melty. Serve with a sprinkling of sea salt (optional).
Thanks a lot to Holly Jade from the vegan food and lifestyle blog thelittleblogofvegan, who created this adorable cookies for us.
Related
If you like it, you also like ...
Recipes