Coco Chocolate Easter Cake | Recipe
Vegan no-bake cheesecake with chocolate and coconut
Text:
Katharina Kuhlmann
Photography:
Holly Jade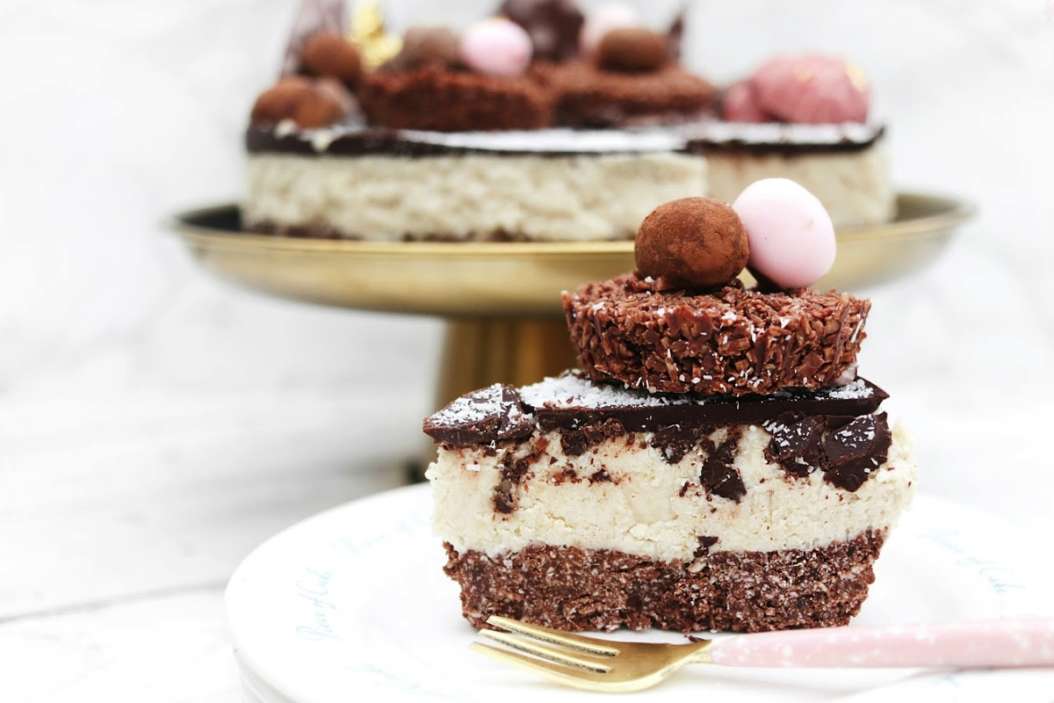 If you would like to surprise your relatives with something very special for this year's Easter, you should grab a pen and paper and write down all the ingredients for our Easter coconut cheesecake today on the shopping list. Coconut and chocolate bring a new twist to the classic cheesecake and all vegans can access with a clear conscience, because the holiday cake comes without any animal ingredients. Besides, it does not have to be baked.
For a springform with Ø 20 cm
unsweetened dessiccated coconut
melted VIVANI Fine Dark 71 % Cocoa
unsweetened dessicated coconut
maple syrup or fruit syrup
VIVANI Dark Cooking Chocolate
little easter nests with hazelnut or chocolate eggs
VIVANI Hot Chocolate drinking chocolate
waiting / cooling time
5 - 8 hours (or overnight)
level of difficulty
medium
The Cashew Nuts need to be soaked overnight in water. Just make sure the water is covering the Nuts.
To make the base line a cake tin with grease proof paper.

In a food processor/blender, add in all of the base ingredients and whizz up on high until like breadcrumbs.
Firmly press the mixture into the lined cake tin and pop into the freezer.
To make the filling drain the cashew nuts and pop them into a food processor/blender along with the coconut cream, melted coconut oil, dessiccated coconut, maple syrup and vanilla extract. Allow to blend for 5 - 8 minutes on high until smooth. There will be some texture due to the coconut.
Pour the creamy coconut layer onto the base and pop back into the freezer to harden. This will take around 30 minutes.

Once the cheesecake is firm, using a bain-marie, melt the cooking chocolate until silky smooth. Pour the chocolate onto the cheesecake and level out with a metal spoon. Pop back into the freezer to set. This will take around 25 minutes.
Once the chocolate has set, now you can decorate your cheesecake.
Many thanks to Holly from the vegan food and lifestyle blog The Little Blog Of Vegan, who created this great recipe for us.
Related
If you like it, you also like ...
Recipes