Vegan Hi-Hat
Cupcakes | Recipe
Giant tartlet with chocolate coating and strawberry surprise
Text:
Katharina Kuhlmann
Photography:
© Lea Green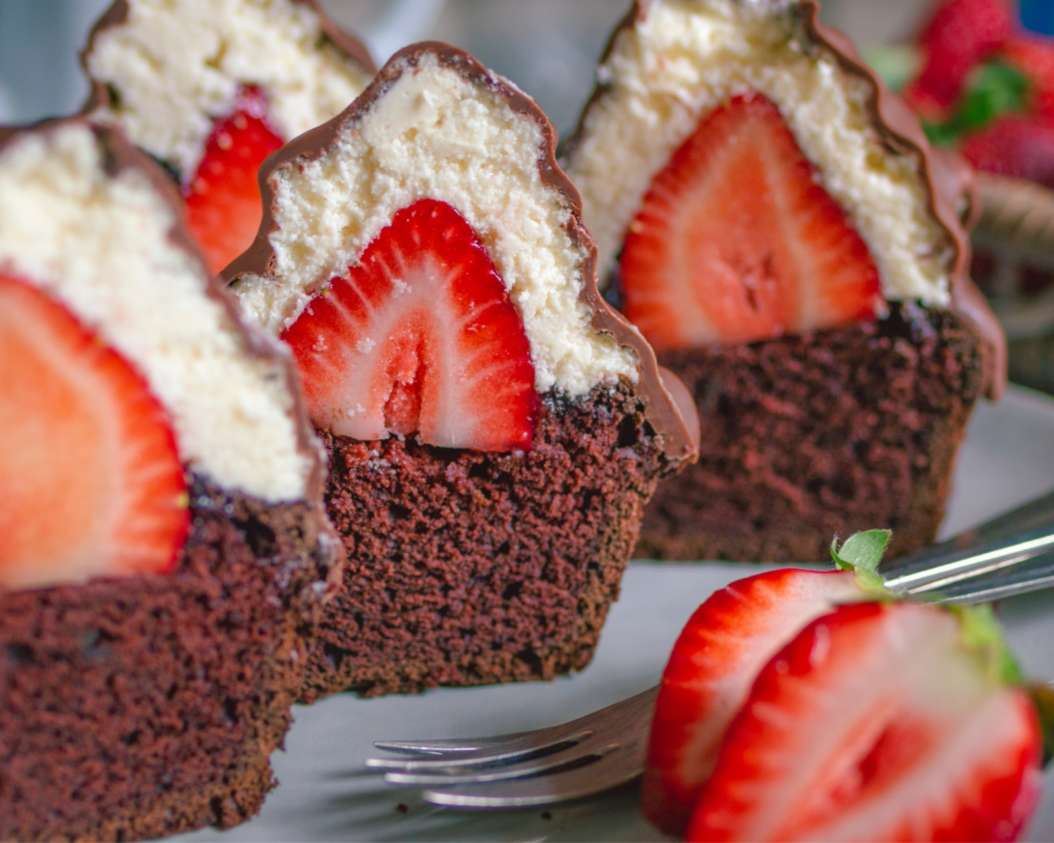 Hi-Hat Cupcakes, what are those? These "little" works of art are a cute trend and a great eye-catcher that will delight all your guests: When you cut open the pastry, which consists of a muffin base and a chocolate coated top, you'll find a fresh strawberry inside - yummy! The recipe with vegan buttercream is 100% plant-based and prepared with our new m!lklike VIVANI Creemy Classic variety. It takes a little more effort to prepare, but it's really worth it for the wow effect - and the taste, of course...
fine cane sugar or fine granulated sugar
vegan butter + a little more
plant milk (e.g. soy or oat)
VIVANI Creemy Classic Chocolate
VIVANI Creemy Classic Chocolate
working time
25 minutes
baking time
20 minutes
waiting / cooling time
90 minutes
level of difficulty
medium
Mix the soy flour with 4 tbsp water and then mix with the flour, sugar, cinnamon, baking soda, lemon juice and cocoa. Cut the vegan butter into pieces and add. Mix the dough briefly and vigorously with a hand mixer, adding the vegetable drink and mineral water.
Grate the chocolate into the mixture and fold in.
Grease the muffin tray with a little vegan butter and fill the batter evenly into the 6 moulds. Bake in the preheated oven at 200 °C top and bottom heat for around 20 minutes (test with a stick) and then leave to cool.
Meanwhile, whip all the ingredients for the buttercream with a hand mixer until frothy and then leave to cool in the fridge for around 20-30 minutes.
Now scoop out a small hole for the strawberries in the centre of each cupcake base with a spoon. Wash the strawberries and place them without the stem in the hole with the tip facing upwards.
Pour the buttercream into a piping bag with a suitable nozzle. Pipe the cream around each strawberry, tapering towards the top. Then place the cupcakes in the fridge for around 30-40 minutes.
Melt the chocolate in a bain-marie, dilute with coconut oil and drizzle over the Hi-Hat Cupcakes, e.g. with a small ladle or a tablespoon. Leave the chocolate layer to set in the fridge for around 30 minutes.
Store the Hi-Hat Cupcakes in the fridge and remove about 15 minutes before serving. If desired, present the strawberry surprise by carefully cutting through.
Related
If you like it, you also like ...
Recipes