Strawberry Éclairs | Recipe
a summer dream with white chocolate cream
Text:
Katharina Kuhlmann
Photography:
© Lena Fuchs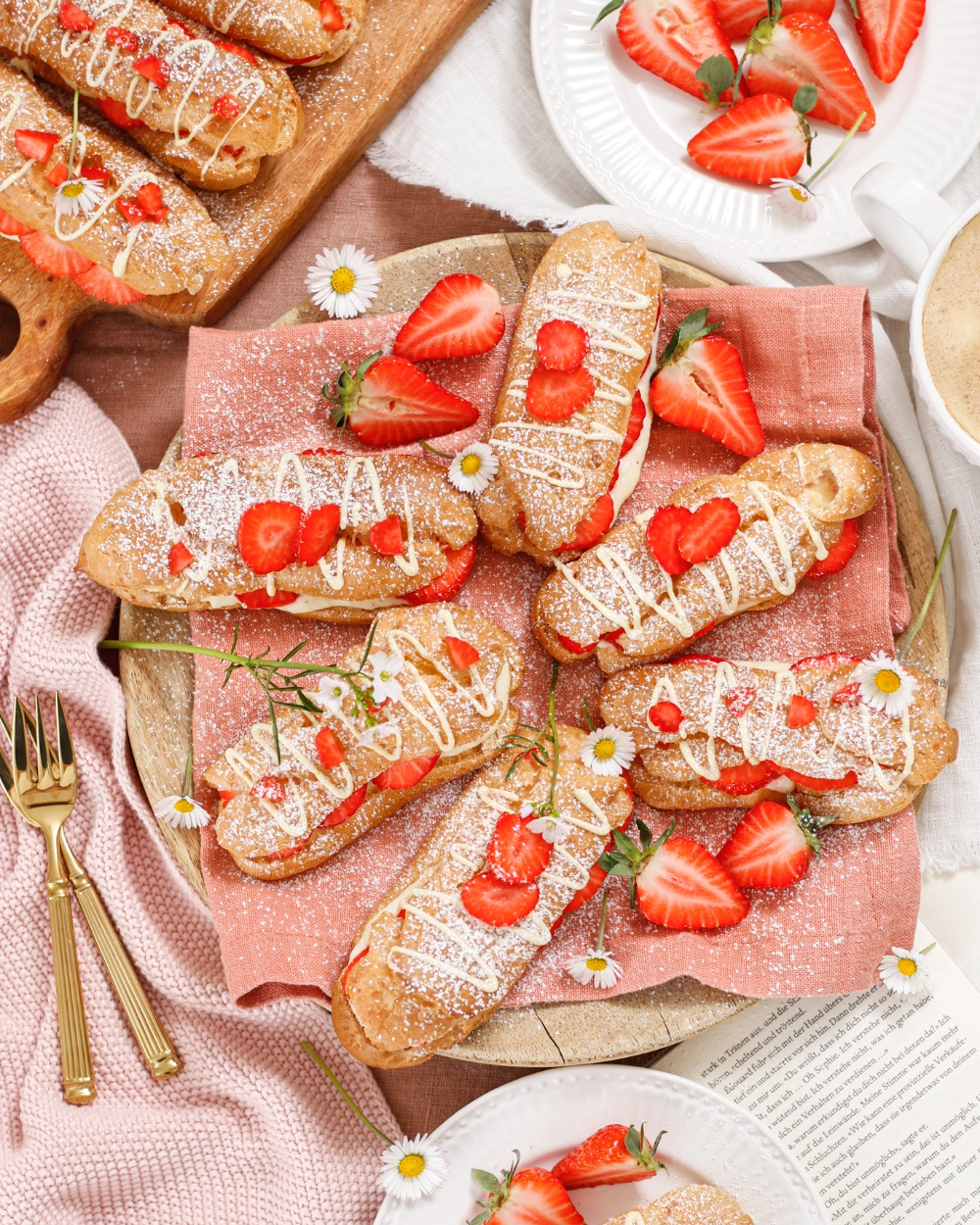 Have you ever tried Èclairs? The choux pastry sticks from France are an elongated version of the cream puff and are just as delicious filled with cream, custard or pudding. Today we have a great early summer version for you, filled with a delicious white chocolate custard cream and strawberries. Drizzled with white vanilla chocolate and little pieces of strawberry, these Strawberry Èclairs are a feast for the eyes and guaranteed to be snatched up like a "flash" - which is exactly what the word "éclair" means.
light spelt or wheat flour
VIVANI "White Vanilla" Chocolate
VIVANI White Vanilla Chocolate
baking time
35 minutes
level of difficulty
medium
Preheat the oven to 190 °C fan. Line two baking trays with baking paper.
Bring the water, butter, salt and sugar to the boil. Add the flour all at once and stir in with a wooden spoon. Stir until a white layer forms on the bottom.
Then transfer the dough ball to a bowl and leave to cool slightly. Mix in the eggs, one at a time, until the dough is smooth.
Fill the dough into a piping bag and pipe 12-15 bars (approx. 8-10 cm long) onto the baking sheets.
Bake in the preheated oven for approx. 25 minutes. Then reduce the temperature to 170 °C and bake for a further 10 minutes until the Èclairs have risen and are golden brown. Caution: Do not open the oven door during baking as the pastries may collapse. Leave to cool completely on a rack.
Meanwhile, prepare the cream. Bring the milk, vanilla and sugar to the boil. Mix the cornflour with 2 tablespoons of milk until smooth. Stir the mixture into the hot vanilla milk and boil down to a custard in 2-3 minutes, stirring constantly.
Break the chocolate into small pieces. Add to the hot custard, allow to melt and stir until smooth. Transfer the custard to a large bowl, cover and leave to cool completely.
In the meantime, whip the cream until stiff. Whisk the custard again until smooth and gently fold in the whipped cream.
Cut the cooled choux pastry sticks in half horizontally. Wash the strawberries, remove the green and set some aside. Slice the rest.
Put the cream in a piping bag and pipe evenly onto the bottom halves of the Èclairs. Top with strawberry slices and place the top halves back on top.
Break the chocolate for the decoration into pieces and carefully melt in a bain-marie. Cut the remaining strawberries into small pieces.
Drizzle the finished éclairs with the melted chocolate and garnish with a few small strawberry pieces if desired. Serve immediately, otherwise refrigerate.
Related
If you like it, you also like ...
Recipes