White Chocolate Lime Cheesecake | Recipe
a sweet little summer breeze
Text:
Katharina Kuhlmann
Photography:
© Roberta Dall Alba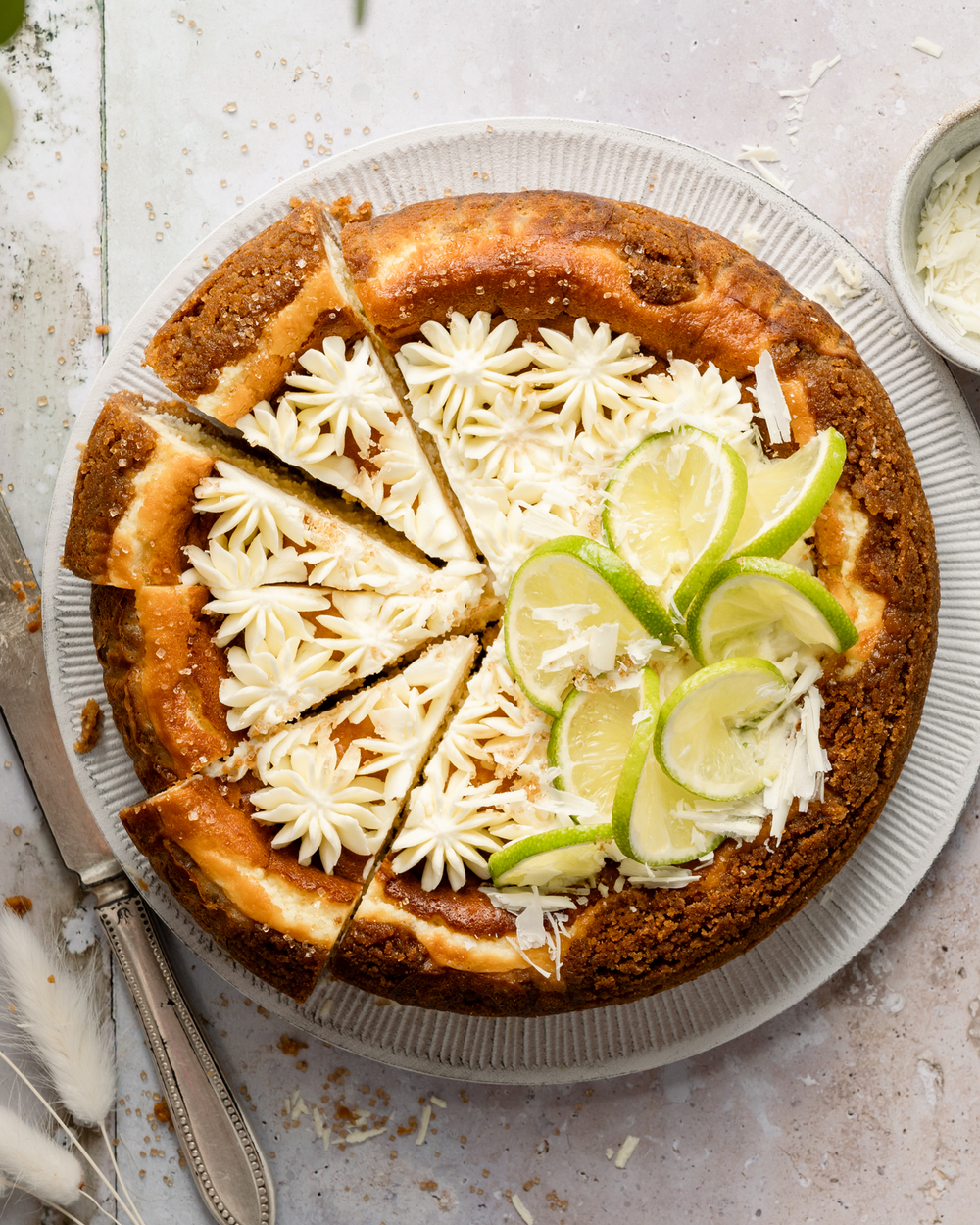 White chocolate and lime are a very refreshing combination. They are the main ingredients in the cream, with which our summer cheesecake is filled. And it is additionally garnished with a matching white chocolate topping. We bake the cheesecake very gently in the oven, which also contains a bain marie. So the White Chocolate Lime Cheesecake succeeds perfectly and gets no cracks.
For a springform pan with Ø 20 cm
cream cheese (room temperature)
melted VIVANI White Vanilla Chocolate
juice from 2 fresh lime (approx. 60 ml)
VIVANI White Vanilla Chocolate
baking time
80 minutes
waiting / cooling time
some hours
level of difficulty
medium
Preheat the oven to 175 °C.
Grease the springform pan with baking spray. Then line with parchment paper, both the bottom and the sides.
Into a bowl, combine ground digestive cookies, melted butter and a pinch of salt. Stir until you obtain a mixture that looks like wet sand.
Put it into the pan, press down into the bottom and sides of the pan. Bake for about 13 minutes. Set aside to cool down. Don't turn off the oven.
For the filling, bring a pot of water to a boil. You will need it for the bain marie. Then place a deep pan on the bottom rack of the oven.
Into the bowl of a stand mixer (or a regular bowl + hand mixer), place cream cheese, yogurt, heavy cream and vanilla extract. Combine at medium low speed, for about 20 - 30 seconds.
Gradually add 3 eggs, one by one. Keep mixing, at the same speed. Add melted white chocolate, sugar, lime juice and zest and keep mixing until incorporated.
Pour the mixture on the crust. Then place the cheesecake into the oven, on the middle rack. Pour the boiling water into the deep pan on the bottom rack and close the oven immediately to prevent the steam from escaping.
Let the cheesecake bake for about 70 minutes. If the center looks wobbly, keep cooking. If it just jiggles a bit, it's done.
Let it cool down in the oven with slightly opened door for about 1 hour. Then put the cake into the fridge.
In the meantime you can prepare the frosting. Cut the white chocolate into tiny little pieces, then pour over the hot heavy cream. Stir until melted. Let it chill at room temperature for a few minutes, then put it into the fridge.
Finish the frosting just before serving. Whip the chocolate cream until fluffy. Add cream cheese and stir gently.
Decorate the cake with the frosting using a piping bag. Garnish with more chopped chocolate if desired.
Thanks for this fresh summer breeze to Roberta Dall Alba from the Italian food-blog Healthy Little Cravings.
Related
If you like it, you also like ...
Recipes