Bizarre jobs in the world of chocolate | Amazing stories from the world of chocolate
Myths, legends and incredible facts - Part 5
Text:
Katharina Kuhlmann
Photography:
Etruscan Chocotel Perugia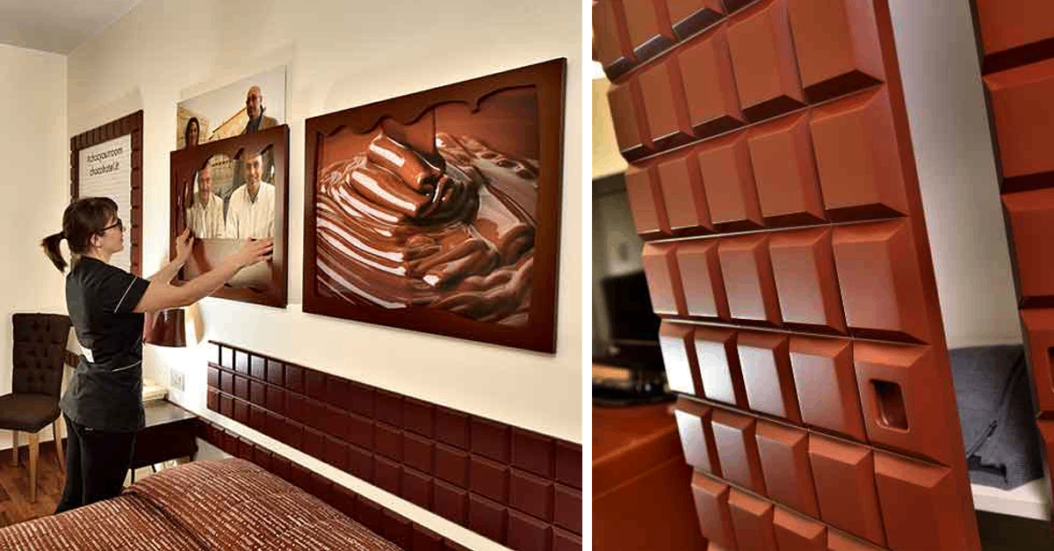 Things are taking a turn for the truly bizarre today. We posed ourselves an important question: if you are not a chocolatier, a confectioner or a confectionery technician, are there any other chocolate-related jobs that you can take up to express your love for the delicious sweet treat? We had a look around and discovered that yes, there are in fact plenty of bizarre chocolate-related jobs that are anything but commonplace. Prepare to be inspired! You could become a chocolate doctor, a chocolate artist, or even a high-tech chocolatier...
Doctor of chocolate in Bristol
Turning your passion for chocolate into a career – chocolatiers, confectionery technicians and confectioners could all write a book about it. But in Bristol, England, these professions have all been topped: here, you can train to become a doctor of chocolate. "Metagenomic Studies of the Microbiota of Fermented Cacao Beans – Application for the Chocolate Industry" – this is the full title of the three-year degree, which costs participants a mere £14,296 per year. And it isn't even about the professional enjoyment of chocolate; instead the degree is all about tricky microbiology. The DNA and fermentation processes of different cocoa varieties are researched and analysed to provide the chocolate industry with important insights. The degree is only open to people with a bachelor's degree in micro and molecular biology. It certainly sounds like a fascinating degree course and job – for an illustrious few.
Chocolate tester
If you are never going to become a chocolate Einstein, you could try your hand as a professional chocolate tester instead. The US mega corporation Mondelez – which owns brands including Milka, Cadbury and Oreo – created a stir at the beginning of 2017 with its vacancy for "Chocolate and Cocoa Beverage Tasters". Within the first 24 hours over 1,500 people applied for the job, which takes up a pleasant 7.5 hours a week. The job description was fairly vague on the necessary qualifications. You had to be able to taste the products and rate them honestly and objectively. It would seem that quite a lot of people decided they were up to it – the company had soon received 4,000 applications. Applicants had to head to an assessment centre for three days of hardcore chocolate graft, each spending two and a half hours torturing their palates with various chocolates. Warning: professional risk of dental cavities and obesity!
Chocolate hotelier
Chocolate hotels are nothing new. They give their guests a stay that is totally chocolate themed. From chocolate menus to chocolate spas to the hotel's own chocolate shop, to chocolate-inspired rooms. All of your chocolatey dreams are sure to come true. Read on for some examples… The Etruscan Chocohotel in Perugia. There are chocolatey surprises everywhere here – like edible carpets and edible pictures in the Choco Sweet Suite. The English chocolate company Hotel Chocolat also runs a hotel. The luxury establishment of the same name is situated on the Caribbean island of St Lucia. It is a real South Pacific dream destination for chocoholics – giving you the chance to take a look behind the scenes at the cocoa grown on the company's own plantation. Anyone can hang pictures, or at least, that was the thought behind the Bryant Park luxury hotel in Manhattan, New York. The hotel was produced in partnership with Belgian chocolatier Godiva and artist Larry Abel. He created a fully edible suite – from the sofa to the paintings on the wall – for two years in a row. Madness!
A shareholder in chocolate
How about winning big on the stock markets with chocolate shares? The aforementioned English company Hotel Chocolat has made this possible with its floatation in 2016. Some years ago, the company had already made the headlines for issuing chocolate bonds worth millions. The creditors were paid the 7% interest in the form of pralines and fine truffles. Any chance of reaping similar dividends on the shares? Probably not.
Chocolate artist
Chocolate as a medium for art – this is no doubt the inspiration for every chocolatier. Yet, in addition to the creation of exclusive pralines and chocolate figurines, some real chocolate artists create even greater extravagances. There are chocolate interior designers, like Larry Abel, who we mentioned earlier. Or the chocolatiers who go on to train as artists and end up creating huge sculptures and structures, like France's best-known chocolatier, Patrick Roger. Life-size sculptures or a 15-metre-long Berlin Wall made from 900 kg of cocoa – anything is possible!
Which chocolate student will become the next Dieter Roth? The Swiss artist is an exotic master in the chocolate art scene and can be a real role model to future avant-gardists. In addition to many other bizarre creations, like biodegradable art and sculptures made of mould, Roth also created chocolate works of art and allowed time and other living beings to shape his work. The 1966 classic "A portrait of the artist as a Vogelfutterbüste [birdseed bust]" is a garden sculpture that he created with the help of birds. And how did he get the birds to play ball? The artist simply included bird feed in the sculpture – this inspired the small feathery creatures to pick at the sculpture and complete the work of art. The artist also created lots of installations and works using chocolate.
Advert on the gangster job market: chocolate mafia
If it doesn't work with cigarettes and drugs, why not try with chocolate? Perhaps this was the line of thought of a mafia clan from near Rome, which was caught in 2015. In addition to marijuana, heroin and Dutch crops, the band of thieves set up a new operation with 250 tons of stolen Lindt chocolate. The value of the sweet goods, which were stolen in Italy in 2014 and then sold there and in neighbouring countries, totalled over seven million euros. This career path is definitely on the slide and is not recommended due to the serious risk of being put behind bars.
Chocolatier 2.0 – chocolate printer and iPhone as a revolution in a classic job?
Technology is advancing in unabated fashion and it is affecting the chocolate industry too. But what additional qualifications does the chocolatier of the future need? What training courses should he take? Will the chocolatier 2.0 be a technical whiz, who can't create anything with a simple scraper and dipping fork? We have already told you about the bizarre chocolate printer. The company Choc Edge developed the first of its kind, and many manufacturers have followed suit. The magical machines take on a lot of the work of chocolatiers. They can be used to create delicate patterns and applicators, as well as entire sculptures. How about chocolate selfies? They have even been rewarding athletes with individual chocolate treats for their efforts. In other words, confectioners can sit back and put their feet up: food printers can now create entire cakes by themselves. Strictly speaking, you don't need any humans present in a chocolate factory now either. As the American chocolate TCHO demonstrates, all confectionery technicians need is an iPhone to monitor and control all production processes from the comfort of their sofa.
Despite all of this, we hope that "real" chocolatiers live on for many years to come and that these high-tech developments remain restricted to a rather dystopian future vision… 
Verwandte Artikel
The Chocolate Journal