Pumpkin Cake
with Nougat Cream | Recipe
With caramelised apples for the autumn season
Text:
Katharina Kuhlmann
Photography:
© Lena Fuchs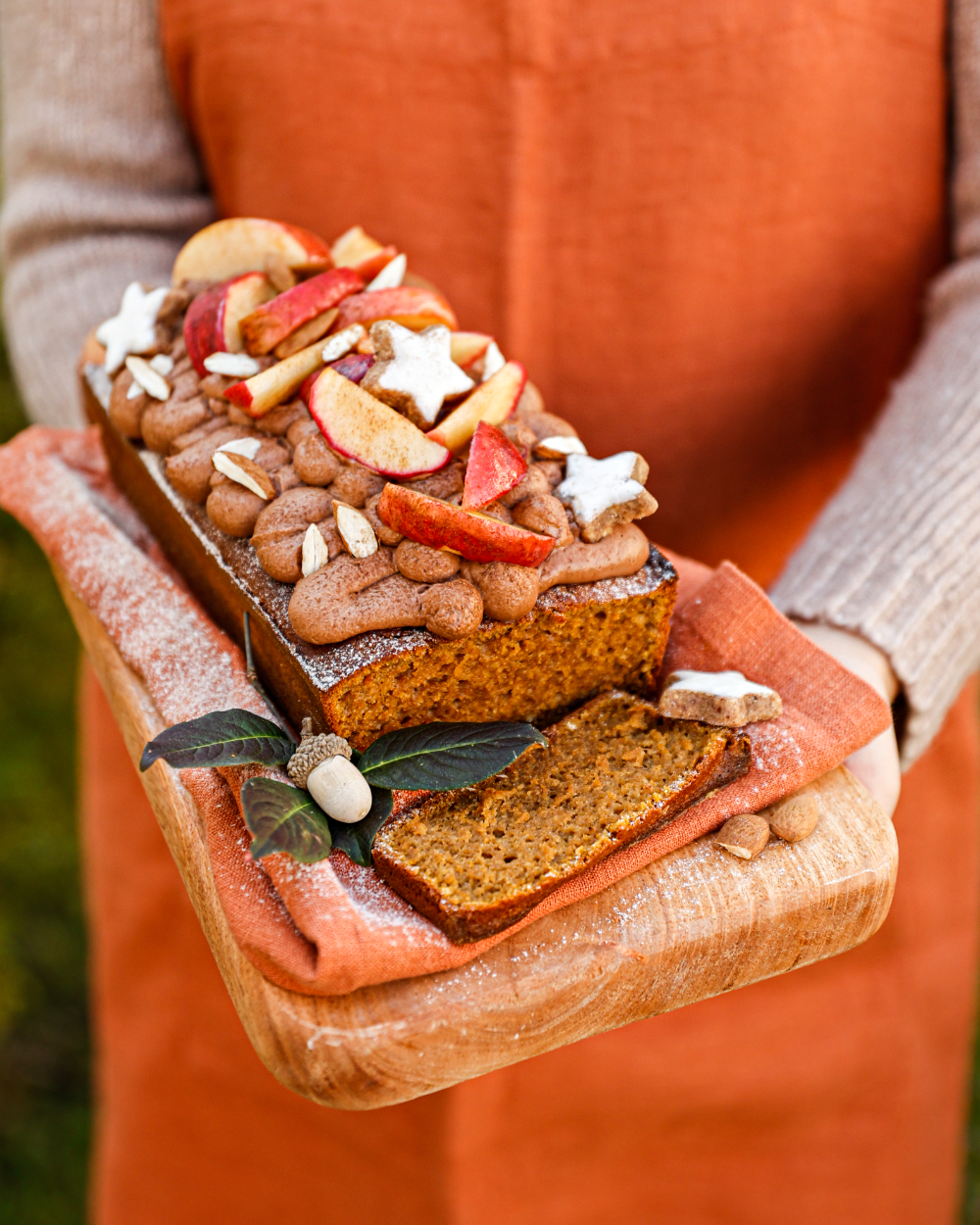 In addition to colourful leaves and hopefully golden sunshine, autumn also brings abundant harvests from regional fields and trees. For many, a highlight of the year: fresh pumpkins at last. The uncomplicated, pretty and easily storable vegetable comes in many varieties and flavours and is full of minerals and vitamins. The butternut variety is the star in today's pumpkin pie, which is cleverly accompanied by fine gianduja nougat cream and caramelised apples. Simply made and nicely decorated, it's a delicious eye-catcher.
butternut pumpkin (300 g pumpkin puree)
mild olive oil or coconut oil
oat flakes (or ground almonds)
cream of tartar baking powder
For the gianduja nougat cream:
VIVANI Dark Nougat Gianduja Chocolate
baking time
25-30 minutes
waiting / cooling time
5 hour
level of difficulty
medium
Preheat the oven to 180 °C fan for the pumpkin pie.
Peel and core the pumpkin and cut into rough slices. Place on a baking tray with the cut side down. Bake in the oven for about 25-30 minutes until soft. Then puree and measure out about 300 g pumpkin puree for the cake.
Grind the oat flakes in a food processor or shredder to a fine flour. Alternatively, you can also use ground almonds.
Now put all the ingredients for the cake into a large bowl and mix to a smooth batter.
Line the loaf tin with baking paper or grease and flour it. Pour in the batter and spread evenly.
Bake in the preheated oven for about 45-50 minutes until a toothpick comes out clean. Remove the cake from the tin and leave to cool completely.
Meanwhile, prepare the gianduja nougat cream. Bring the cream to the boil in a pan. Roughly chop the chocolate and put it in a bowl. Add the hot cream, stir and allow to melt. Then blend with a hand blender until smooth. Chill in the fridge for 5 hours.
Now for the topping, cut the apples with the skin into wedges. Melt the coconut oil in a pan.
Add the apples and toss over a low heat. Add the maple syrup, cinnamon and the juice and zest of the orange. Allow to caramelise slightly over a medium heat for 1-2 minutes. Then leave to cool.
After the cooling time, whip the nougat cream with a hand mixer until creamy. Pour into a piping bag and pipe decoratively onto the cake.
Finally, spread the apples over the cream. Garnish the cake with additional toppings, e.g. almond halves or some small biscuits.
Tip: If braised pumpkin is left over from the oven, it can be used as a base for pasta sauces, risotto, porridge or curry.
Related
If you like it, you also like ...
Recipes