Sweet 'n' fluffy
Focaccia | Recipe
With chocolate, thyme & caramelized pears
Text:
Katharina Kuhlmann
Photography:
© Roberta Dall'Alba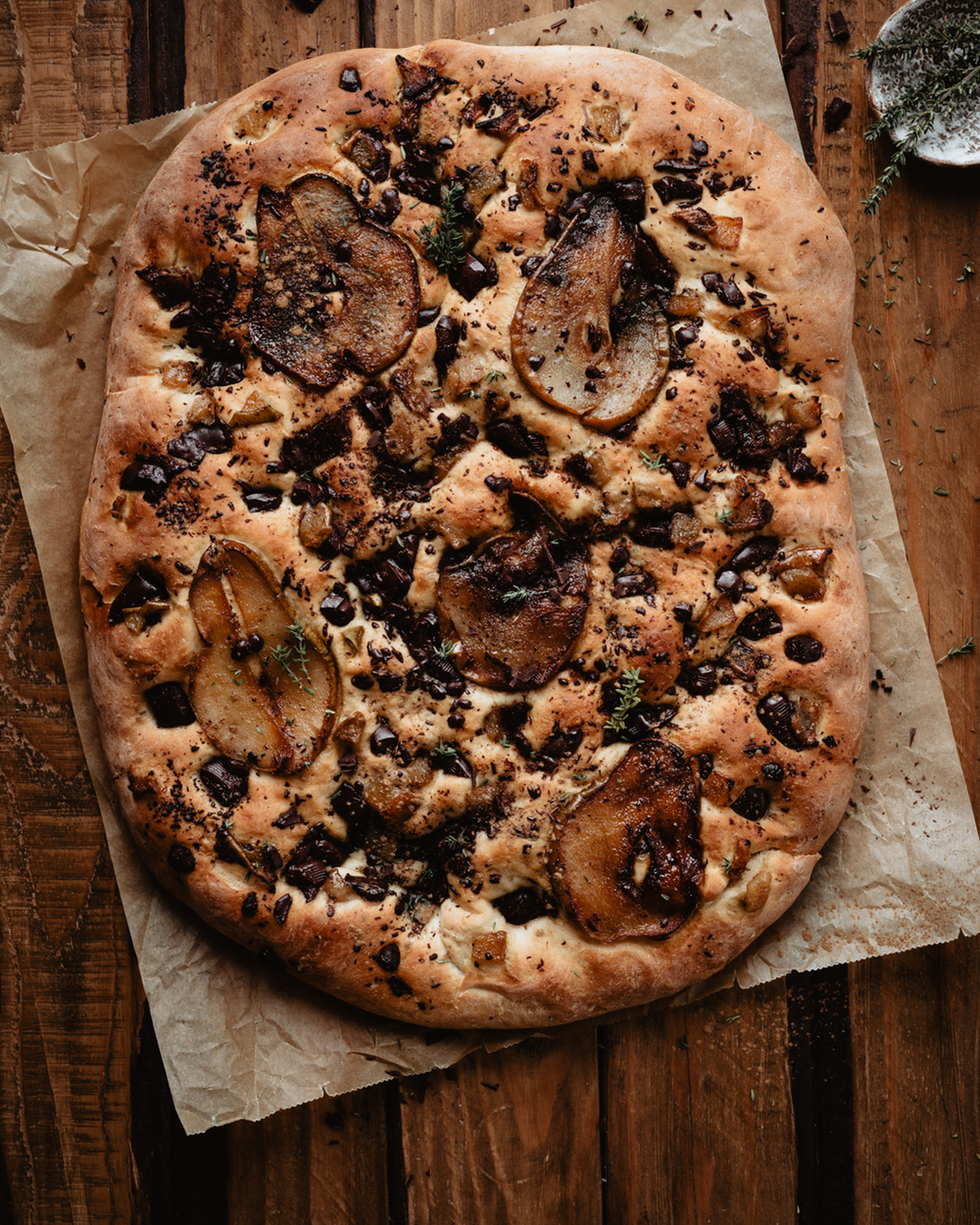 Focaccia is a typical Italian flat bread made of yeast dough and comes from the Liguria region. Usually the bread is topped with olives, tomatoes, etc. Our today's version becomes a real sweet seduction with chocolate and caramelized pears ....
butter (enough to cover the bottom of the pan)
VIVANI Superior Dark Chocolate 70 % Cocoa
baking time
10 minutes
waiting / cooling time
100 - 120 minutes
level of difficulty
medium
In the bowl of a stand mixer, pour water and milk, dry yeast and sugar and combine using the flat hook.
Change to kneading hook, gradually add spelt flour and let combine at medium speed.
When fully absorbed, add salt then softened butter. When absorbed, let knead for about 10 – 15 minutes at medium high speed.
Cover the bowl with a dish towel and let it double in volume in a warm place for approximately 1.5 hours (depending on the temperature).
In the meantime, prepare the pears: let butter melt in a pan at medium heat, add pears' slices and let caramelize on the bottom. Flip them and let caramelize the other side.
Add sugar and balsamic vinegar to balance flavors. Afterwards set aside.
When your dough has doubled, roll it out with your hands on a well-greased baking tray (alternatively, grease a sheet of parchment paper and roll your dough onto it).
Garnish with caramelized pears and chocolate chunks, gently press them into the fluffy dough, and let rise again for about 15 – 30 minutes.
In the meantime, preheat the convection oven at 225 °C.
Bake the focaccia for about 10 minutes or until golden brown (if using a conventional oven, it would take a few more minutes).
Garnish with thyme and cinnamon.
Thanks for this extraordinary Focaccia to Roberta Dall Alba from the Italian food-blog Healthy Little Cravings. We also love her fantastic cinemagraphs – real eye candy!
Related
If you like it, you also like ...
Recipes