New vegan chocolate
bars from VIVANI
Almond Nougat Crisp & Creemy Classic - WIN THEM!
Text:
Katharina Kuhlmann
Photography:
© EcoFinia GmbH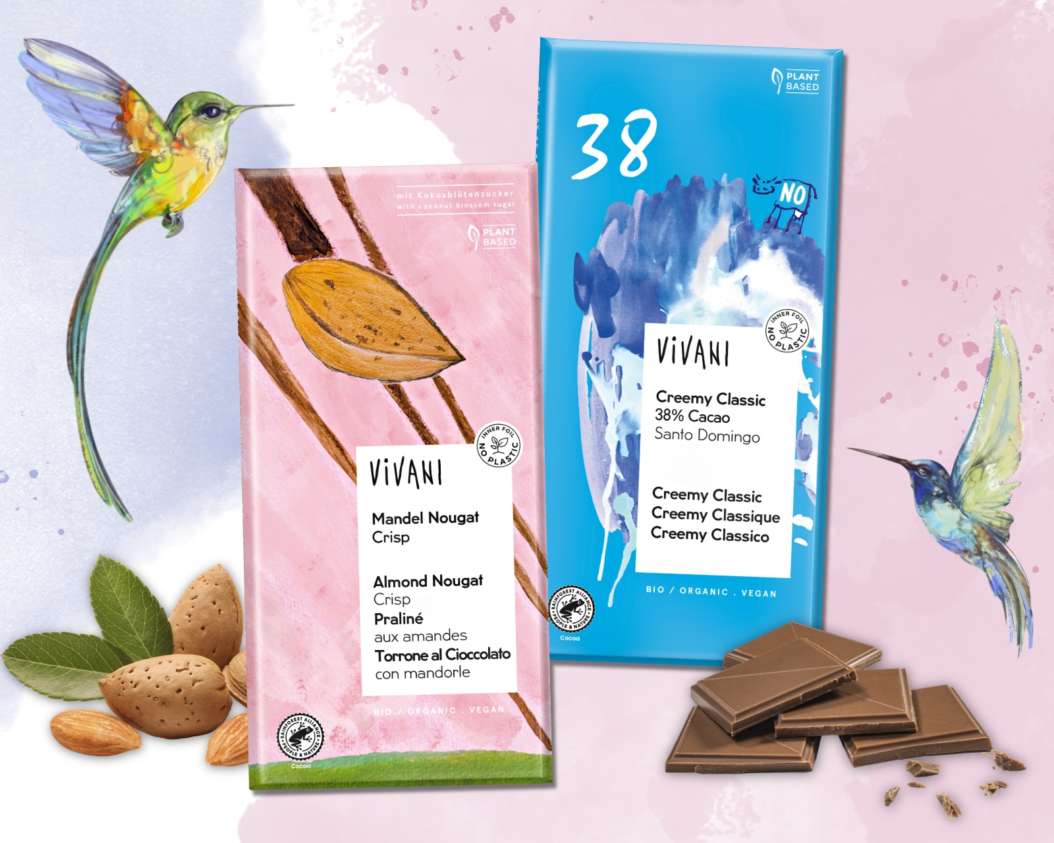 In addition to our dark chocolate bars which are vegan by default, VIVANI's range has also included vegan "milk" and white chocolate bars for many years. This all started with the popular "White Nougat Crisp" bar back in 2013. But many milk substitutes bring their own hints of flavour to the chocolate – just like the rice milk we used – resulting in a bar that no longer tastes like "real" milk chocolate. Our product development department has created an entirely new recipe for our two new vegan chocolate bars "Almond Nougat Crisp" and "Creemy Classic". It doesn't feature any rice, soy, oat or other non-dairy milk, so there is nothing to stand in the way of the classic milk chocolate taste. First launched at the BioFach organic food trade fair in Nuremberg and now available in all good retail outlets.
Vegan 2.0 – moving away from traditional milk substitutes
Rice drink or rice syrup used to be the magic formula for producing vegan "milk" and white chocolate bars. Our popular "White Nougat Crisp" and "Almond Orange" bars are vegan "milk" and white chocolates that don't taste too sweet thanks to our balanced recipe. And perhaps some of you can still remember our "Rice Choc" milk chocolate bar, which was also available as a vegan version.
Our product development department has been experimenting for over 10 years now, trying to find the perfect vegan "milk" chocolate. Recent attempts have certainly taught us one thing: you don't need to use rice milk. You can make it work without using any of the traditional milk substitutes. In fact, the taste is even better and even more authentic. And lots of blind tastings of our new vegan chocolate bars "Almond Nougat Crisp" and "Creemy Classic" have already proven that you can no longer tell the difference between these vegan bars and real milk chocolate.
Our reinvented product recipes are the key to this new taste experience. They include ingredients that you wouldn't usually expect to find in chocolate: buckwheat flour and ground tiger nuts. And they aren't just there as natural bulking agents, they also contain valuable ingredients. In addition, their natural fats also help to create a great texture.
Super foods: buckwheat flour and ground tiger nuts
Buckwheat is a so-called pseudocereal and, when processed, is both considerably less sweet than rice milk and far richer in high-quality protein, minerals and trace elements. Like rice, it is also gluten-free. And if this wasn't enough, buckwheat has also been shown to be a more sustainable alternative to rice. We were previously importing organic rice milk powder from Pakistan, but we are now sourcing buckwheat directly from our neighbouring country of Poland and, in doing so, are further reducing our own carbon footprint.
Tiger nut is a type of cyperus grass. Its oil-laden tubers are edible and can be used in a number of different ways. Thanks to their nutty, almond flavour, tiger nuts are highly suited as a drink, as flour for baking, as a coffee replacement or as a snack. They are also gluten-free and rich in minerals. Tiger nuts have a considerably higher fat content than buckwheat. Their tubers are around one quarter fat. The valuable unsaturated fatty acids make up the majority of this content. Used in our new vegan variety "Creemy Classic", the ground tiger nuts also add an extra level of creaminess.
VIVANI Almond Nougat Crisp chocolate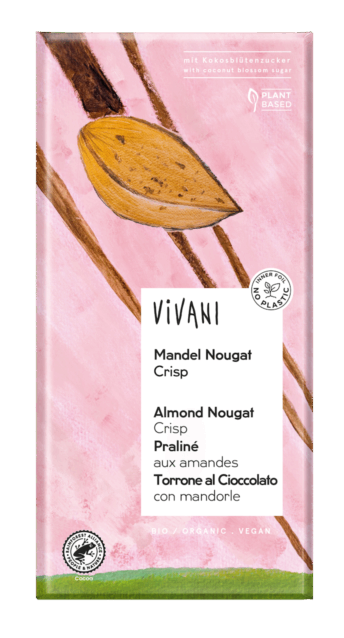 Our first new vegan and "milk" chocolate creation goes by a name that gets our mouth watering before we even try it: "Almond Nougat Crisp". Produced using the finest almond nougat and crispy, roasted almond pieces, the high almond content in this vegan chocolate bar lends it a unique smoothness. The buckwheat flour and subtle maltiness of the coconut blossom sugar complete the new flavour spectrum of this special creation. The bar is made using 38% of the finest organic cocoa from the Dominican Republic and its taste, which is almost impossible to distinguish from a conventional creamy bar of milk chocolate, is even more enjoyable thanks to the extra thin format of the chocolate bar.
---
VIVANI Creemy Classic chocolate
"Creemy Classic" – meet the second new vegan creation in our range. Like the "Almond Nougat Crisp", this bar comes in the style of a classic, pure milk chocolate but doesn't feature the standard vegan alternatives of oat, soya or rice. The refined recipe featuring hazelnut paste, buckwheat flour and ground tiger nuts combines with a 38% Dominican cocoa content to create a slightly nutty flavour and incredible creaminess. The "Creemy Classic" also comes in an extra flat bar to further enhance the delicate smoothness and the genuine "milk chocolate" flavour.
---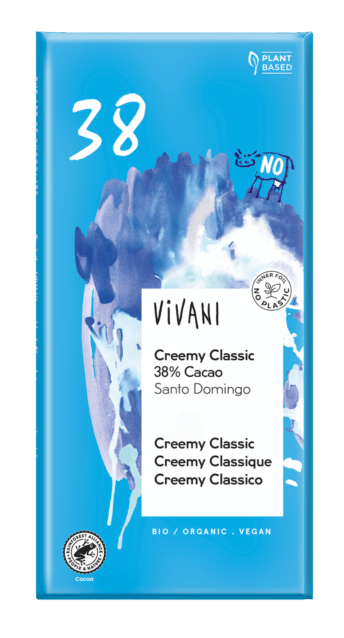 +++ Win 10 tasting boxes +++
Are you curious and want to try our new vegan bars before your favourite organic food shop has them on the shelves? Quickly enter our competition and with a bit of luck you can soon try our new products with your loved ones and friends at home!
Our 10 prize packs each contain 3 x the varieties "Almond Nougat Crisp" and "Creemy Classic".
To enter, simply fill in the following contact field by 19 March 2023. The keyword is "VIVANI vegan bars". Good luck!
All participants agree to the following competition conditions:
Persons from Europe aged 16 years and over are eligible to enter. The closing date is Sunday, 19 March 2023, 23.59 hrs. The personal data of the participants will only be stored for the purpose of determining the prize and will be completely deleted no later than 3 weeks after the end of the competition. The data will not be passed on to any third party. The winners will be notified by us by email on Monday, 20 March 2023, and will be determined by drawing lots. Employees of EcoFinia GmbH and their relatives are not eligible to participate. The legal process is excluded. The prize is non-transferable and cannot be paid out in cash. Further information on data protection can be found here.