Superior Dark
80% Cocoa »NEW«
Santo Domingo Cocoa | vegan | Biodynamic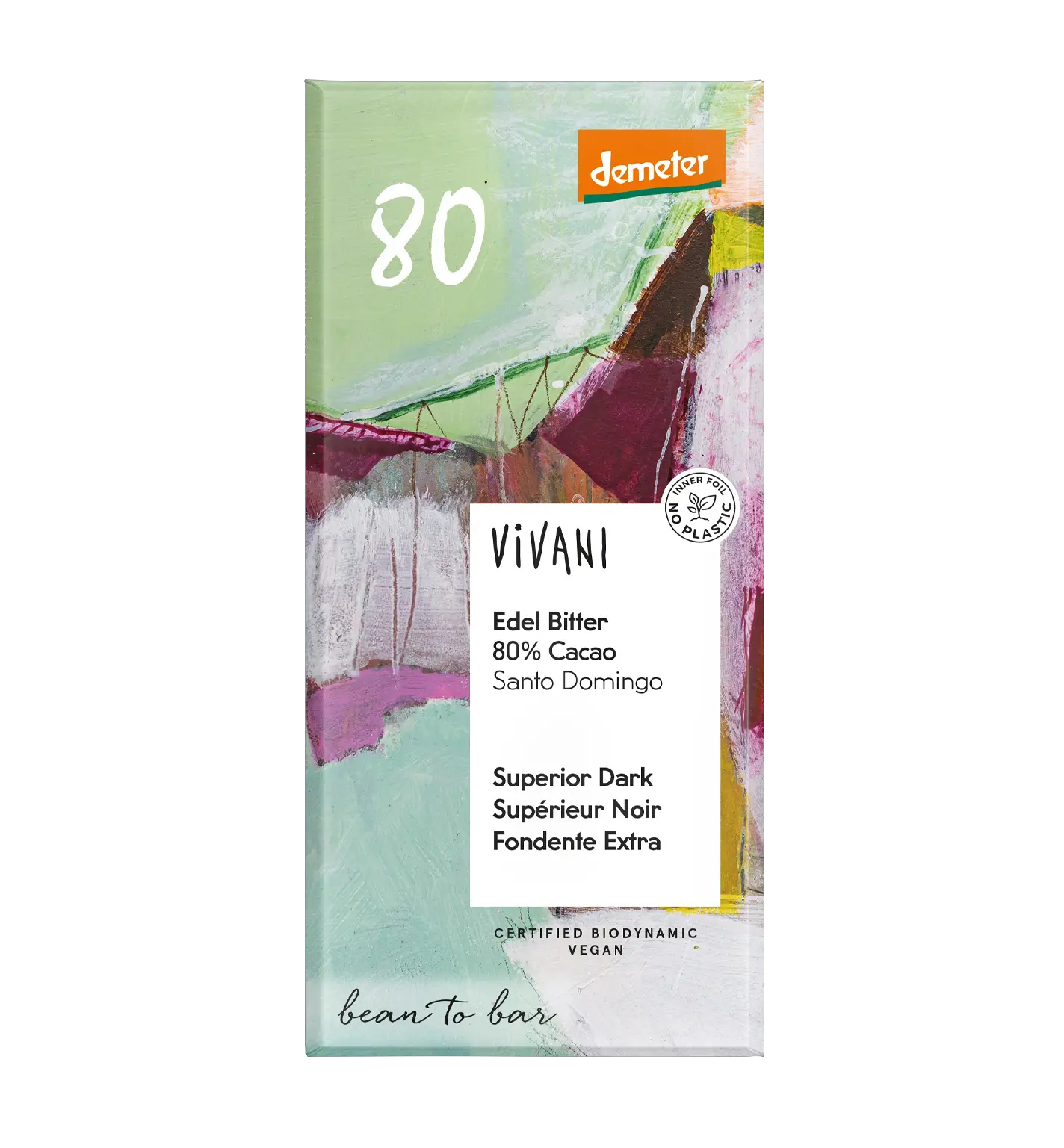 Superior Dark
80% Cocoa »NEW«
Santo Domingo Cocoa | vegan | Biodynamic
Strong cocoa notes meet subtle sweetness – this dark fine flavour chocolate with 80% cocoa content in a flat Edizione Grande bar format is a true highlight for all lovers of pure chocolates with unmistakable cocoa flavours.
The fine flavour cocoa for VIVANI's biodynamic chocolate collection comes from three farms in the Dominican Republic and is completely traceable. As it is usual for a good bean-to-bar chocolate, the roasting and grinding of the cocoa beans of course takes place in-house. The German beet sugar used is also biodynamic-certified.
The Story behind…
Superior Dark
80% Cocoa »NEW«
The oldest German organic label is also considered the strictest: Demeter. Since 1924, the pioneer label has stood for a biodynamic agriculture with strict criteria and frequent controls. The biodynamic standards see the farm as a living organism that maintains itself through the close relationship between people, animals, plants and soil. Ecological fertilisation methods and biodynamic preparations made from dung, plants and minerals, among other things, ensure a high level of soil fertility according to the idea of a healthy, natural agriculture.
Ingredient
cocoa mass**, cocoa butter**, beet sugar**, cocoa powder**, bourbon vanilla*
Cocoa: 80 % minimum
May contain components of tree nuts, milk and gluten.
*from organic agriculture
** from biodynamic farming
DE-ÖKO-001
Allergens
Nutrition Information Ø 100g