Chocolate Charlotte Cake with raspberries | Recipe
Early summer no-bake tartlet with fresh fruit and milk chocolate
Text:
Katharina Kuhlmann
Photography:
© Karin Buhl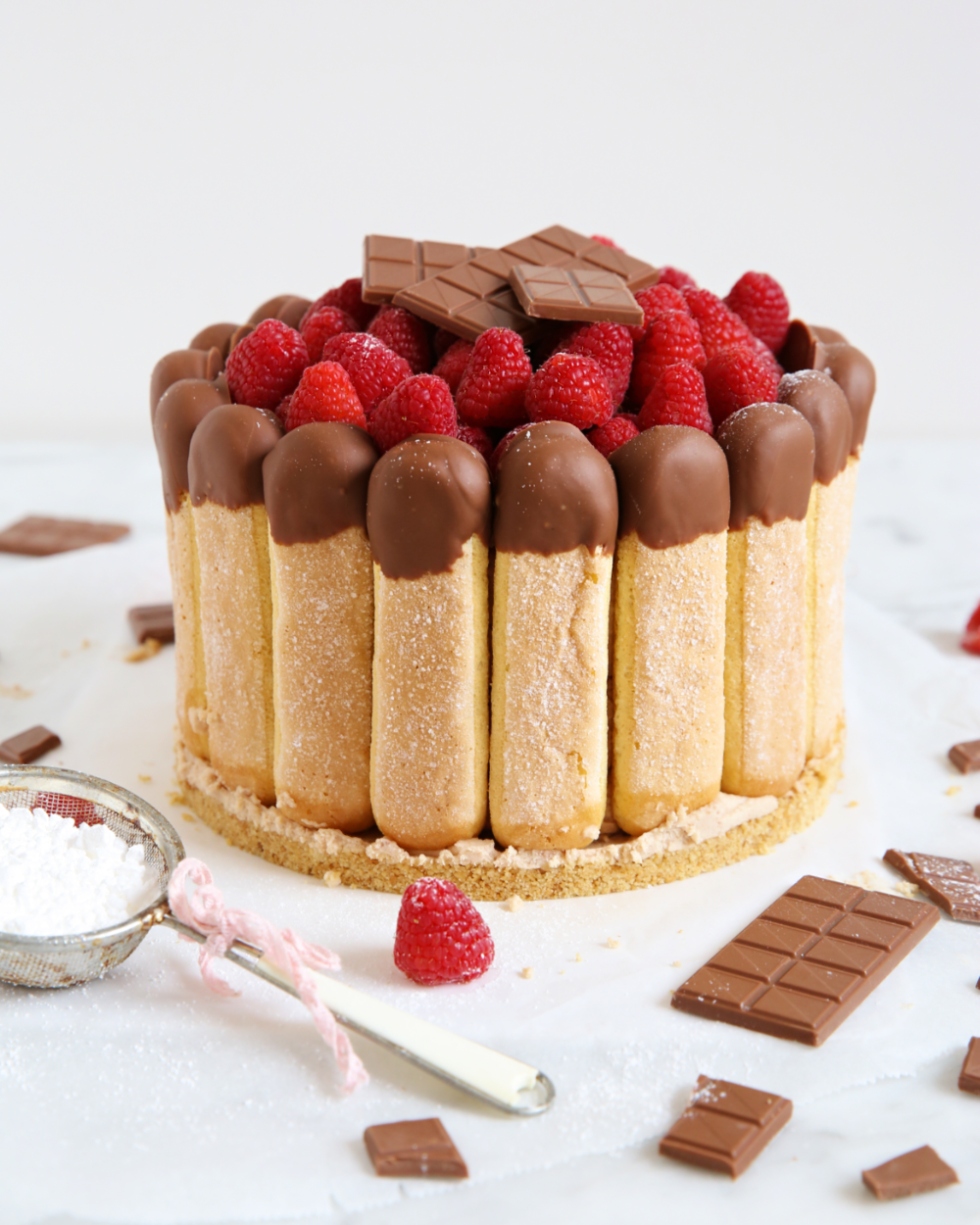 After the start of the strawberry season, berry fans expect nothing more than the beginning of the raspberry season. Finally, the sweet and sour fruits are available fresh and regionally. They are the star in fruity desserts, cakes and desserts of all kinds. Our recipe idea for you: How would you like a Chocolate Charlotte Cake with raspberries and smooth milk chocolate? In the tradition of a classic Charlotte Cake, the tartlet is also surrounded by ladyfingers - in our case chocolate-coated, of course. Inside, a fluffy chocolate-vanilla cream is waiting for you and a luscious raspberry topping including sweet mini chocolate bars forms the crowning glory. The cake requires little effort thanks to the no-bake biscuit base, which gives this dreamy taste experience yet another plus point. Let summer come...
For a tartlet with Ø 20-22 cm
VIVANI Milk Cooking Chocolate
cream stiffener (optional)
natural vanilla flavouring / vanilla extract
VIVANI Feine Milk Mini Bars
waiting / cooling time
4 hours or overnight
level of difficulty
medium
The first step is to prepare the ladyfingers for the border. To do this, carefully melt the chocolate coating in a bain-marie.
Then dip one side of the ladyfingers into the liquid chocolate and place on a board with baking paper. Put them in the freezer for a few minutes to dry more quickly.
Meanwhile, finely grind the biscuits for the base with a blender. Melt the butter in a saucepan and pour over the ground biscuits. Mix well to form a crumbly mixture.
Adjust the cake ring to 20-22 cm and place on a cake plate or platter. Now pour in the biscuit mixture and press down evenly and firmly. Place in the fridge to set.
In the meantime, whip the cream for the filling until very stiff, using a sachet of cream stiffener if necessary. Also place in the fridge.
Now mix the cream cheese, sugar and vanilla flavouring with a hand mixer. Add the remaining liquid milk chocolate and mix well.
Prepare the vegetable gelling agent according to the package instructions, add to the cream and mix well. Then carefully fold in the cream.
Now take the base out of the fridge in the cake ring and spread some of the cream on top. Then insert the ladyfingers, chocolate side up, all around the edge to form the border.
Fill the centre of the tart with the chocolate-vanilla cream and place in the fridge for at least 4 hours, preferably overnight.
After the cooling time, carefully remove the cake ring. Spread the raspberries over the cream and dust with icing sugar. Garnish the tartlet with the mini chocolate bars.
Tip: The charlotte can be stored well in the refrigerator, but should be eaten after 1-2 days because the ladyfinger become very soft after that.
Related
If you like it, you also like ...
Recipes