Dark Mallorca
Fleur de Sel
75 % Cocoa Panama | vegan | with coconut blossom sugar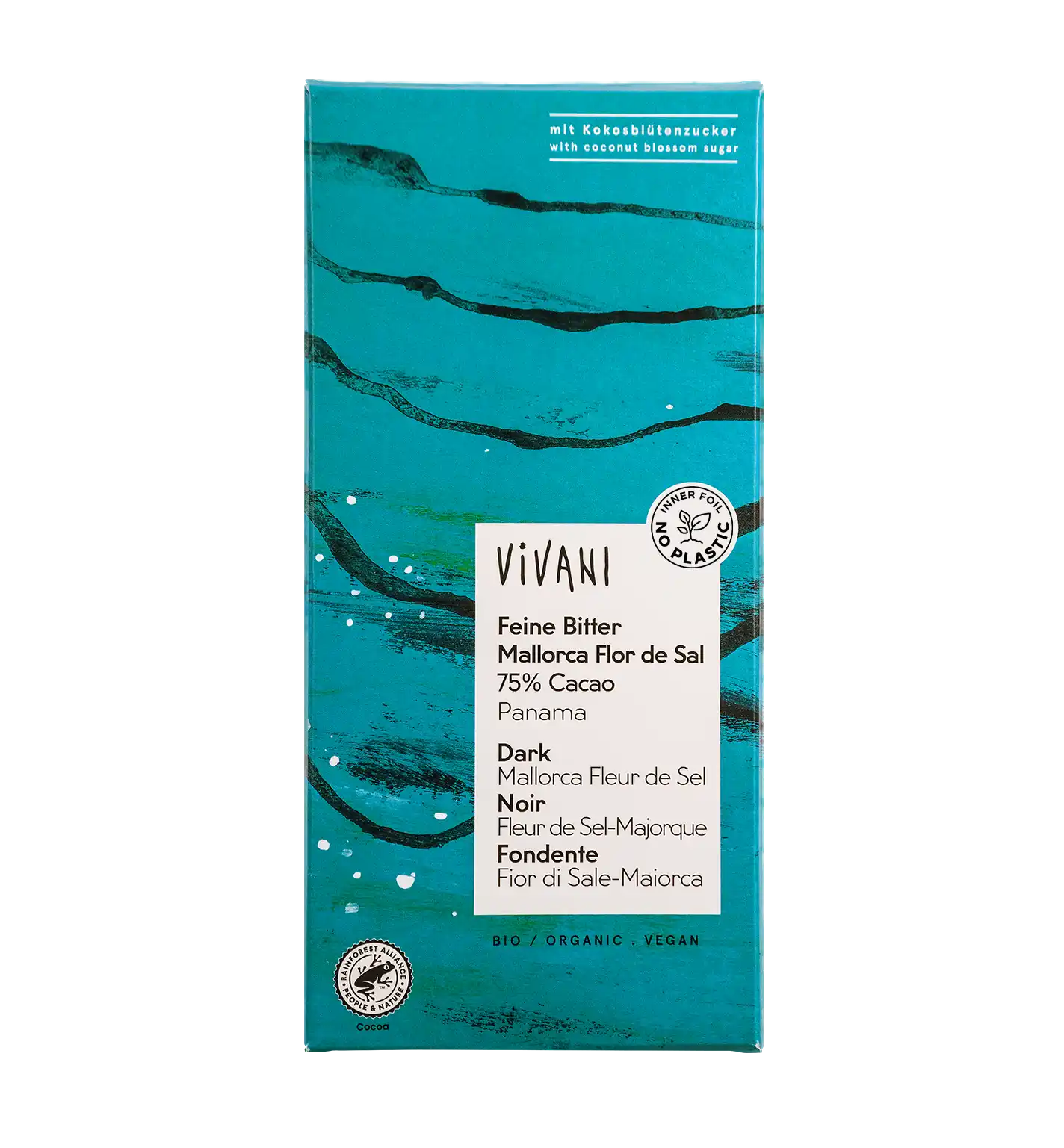 Dark Mallorca
Fleur de Sel
75 % Cocoa Panama | vegan | with coconut blossom sugar
With its distinctive hints of salt, this fine dark chocolate whisks you away to the stunning Playa d'Es Trenc beach in Mallorca. The region is home to the special, hand-harvested salt, which forms as beautiful crystals in the seawater pools. The salt is combined with a high proportion of aromatic organic Panama cocoa and the almost malty caramel hints of coconut blossom sugar to create a delightful bouquet of aromas.
The Story behind…
Dark Mallorca
Fleur de Sel
For our new salt chocolates we were looking for a very special, natural salt. With Flor de Sal d'Es Trenc we have found a great product that fits wonderfully with our new varieties. It is extracted from the beautiful natural beach Playa d'Es Trenc on Mallorca. In the salines, only the influence of the sun and wind crystallizes seawater into beautiful salt flowers. Since ancient times, the salt produced here has been known for its aroma of the Mediterranean Sea and its particularly mild taste. It also contains over 80 minerals and micronutrients.
Sea salt is repeatedly criticized for containing high levels of microplastics. However, various measures and intensive research have succeeded in keeping the possible content of microplastic in Flor de Sal d'Es Trenc as low as possible.
Ingredient
cocoa mass*°, coconut blossom sugar* 23%, cocoa butter*°, sea salt* 0,7%
Cocoa solids: 75% minimum
May contain components of tree nuts, milk and gluten.
*from organic agriculture
°Rainforest Alliance Certified
DE-ÖKO-013
Allergens
Nutrition Information Ø 100g