Our products now feature the designs of a second artist alongside Annette Wessel. Moroccan-born Aziz El Khiar is still a well-kept secret within the art world – a real surprise given the quality of his paintings and his general versatility.
Two of his works, which he has designed exclusively for us, can now be seen on the new VIVANI range of drinking chocolate.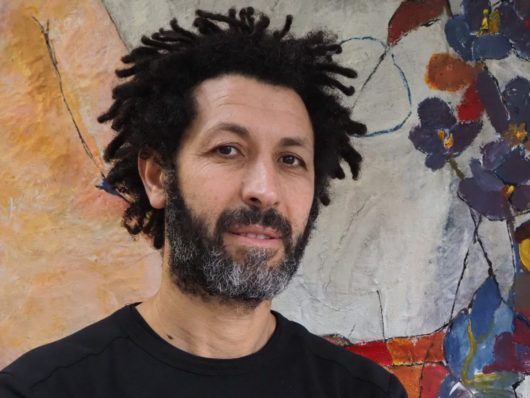 Aziz, tell us a bit about yourself and your story. Where do you live and how did you become interested in art?
Ich bin 1970 in Agadir (Marokko) geboren und hatte dort eine sehr glückliche Kindheit I was born in 1970 in Agadir (Morocco). I had a very happy childhood and adolescence there. I moved to Germany in 1996. Nowadays I live in Gevelsberg with my family and work in Wuppertal as a self-employed joiner. Art has always been a part of my life: when I was five I used to make little sculptures and carry them around in my trouser pockets. I began painting in Germany; first with pastels and then with acrylics and oil paints. I still make wood and metal sculptures, mostly from things I find that others have thrown away.
You paint, make sculptures and work with a huge range of materials. What is the common theme that runs through all of these different fields? What is typical Aziz? Do you have a trademark, so that people can recognise your work?
It is hard to say. My themes are really varied, and my style is too. But my work is always about things that affect me personally.
How would you describe your style?
You could maybe define my style as expressionist; but I don't tend to think about things like that too much. Like I say, my pictures vary greatly depending on the current phase I am in.
Do you have any role models and sources of inspiration? Where do you get your creativity from?
I really like Schiele and Basquiat, and you can see this in some of my pictures. The Koran is also a source of inspiration for me with the stories it contains. Otherwise, it is simply life with all its many facets.
Your art can now be seen on the VIVANI range of drinking chocolate. How were the paintings created and what does this co-operation mean to you?
I produced the pictures especially for the drinking chocolate and sought inspiration from the cocoa plant. VIVANI chocolate is a really special product and always stands out thanks to its stunning, artistic packaging. As such, I was really happy to be able to contribute with two pieces of art and maybe also increase my profile.
Why do you think art and chocolate go so well together?
They both involve having a sensual experience.
Can you imagine painting with cocoa paint or chocolate?
It could be the future. Drinking chocolate packaging featuring art created using cocoa paint? Who knows what the future has in store…