Cappuccino Smoothie | Recipe
A delight in many varietys
Text:
Katharina Kuhlmann
Photography:
Roberta Dall Alba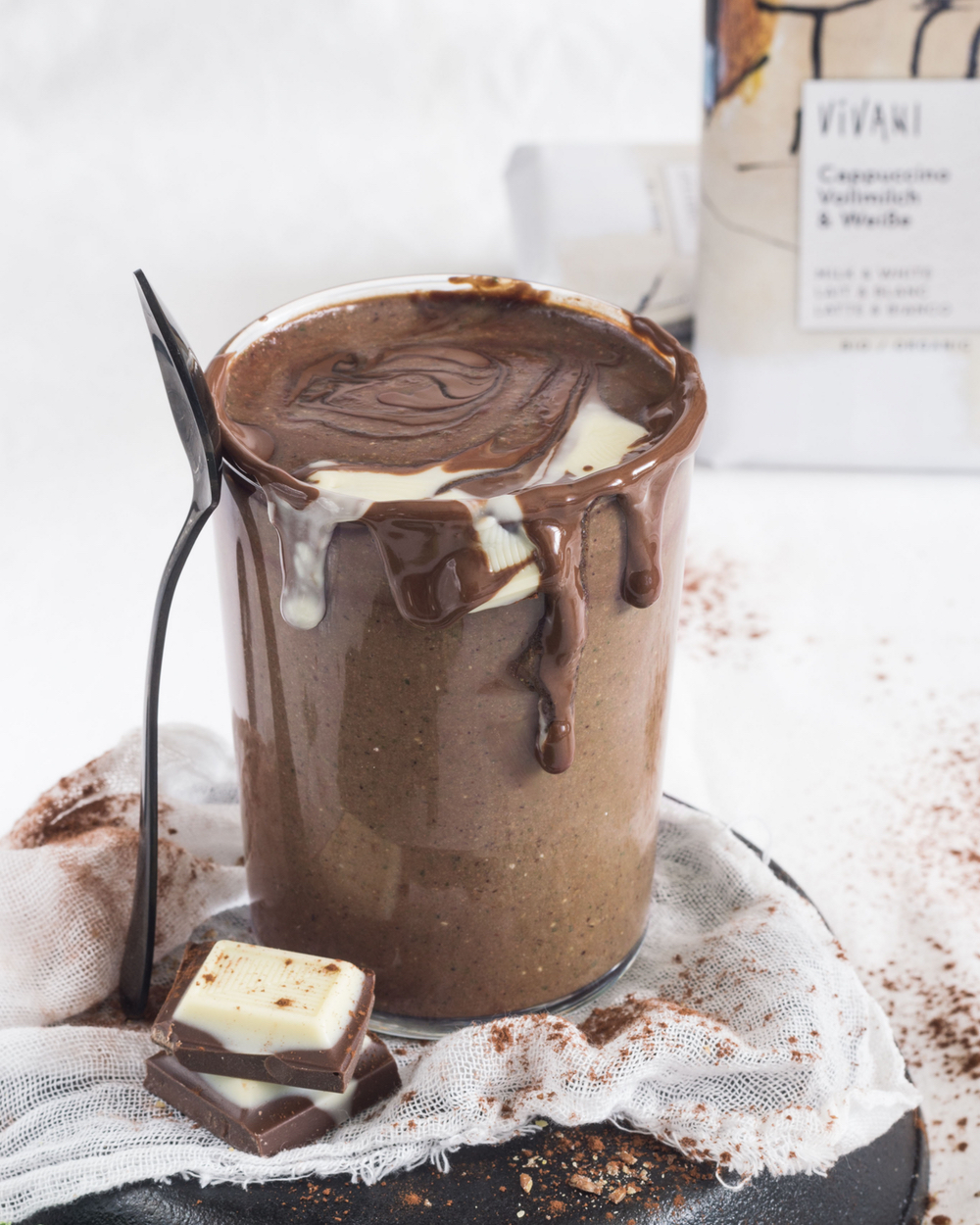 Have you ever noticed that, whenever you mix banana with chocolate and milk, the magic happens? Having a smoothie is always a good idea, especially if it's packed with nutrients like this one. It is the easiest, yet ultimate breakfast, snack or pre / post workout meal. The perfect on-the-go energy boost! Fill of with fibers, vitamins, healthy fats, healthy sugars, calcium and fuel up with espresso.
ground espresso (or instant espresso powder)
VIVANI Cappuccino Milk & White
Schwierigkeitsgrad
einfach
Peel the banana and cut it into slices, then blend it in a food processor / blender together with the kale leaf and milk (or plant milk like soy or almonds') for a few seconds.
Add flax seeds, a ground espresso, cocoa powder and ultimately a piece of VIVANI cappuccino chocolate to sweeten without adding any other sweetener. Feel free to make adjustments based on your taste (see below). Blend again until nice and smooth.
Tips:
To make it richer add:
some unrefined coconut oil (it will change the flavor a bit) or
half an avocado
To make the most of this smoothie:
add more kale or spinach or
add even more superfoods (like chia seeds, nuts, berries…)
To make it crunchier:
just top the cappuccino smoothie with some cocoa nibs
To make it less thick:
add some more milk/plant milk
To make it super yummy (but with more sugar):
melt some VIVANI Cappuccino Chocolate and put it onto the smoothie
Thanks for this great recipe to Roberta Dall Alba from the Italian food-blog Healthy Little Cravings. We also love her fantastic cinemagraphs – real eye candy!
Verwandte
Wem das schmeckt, der mag auch ...
Rezepte