Nougat Bee Sting
Cake | Recipe
a classic German cake with dark cream and a crispy honey-almond crust
Text:
Katharina Kuhlmann
Photography:
© Lena Fuchs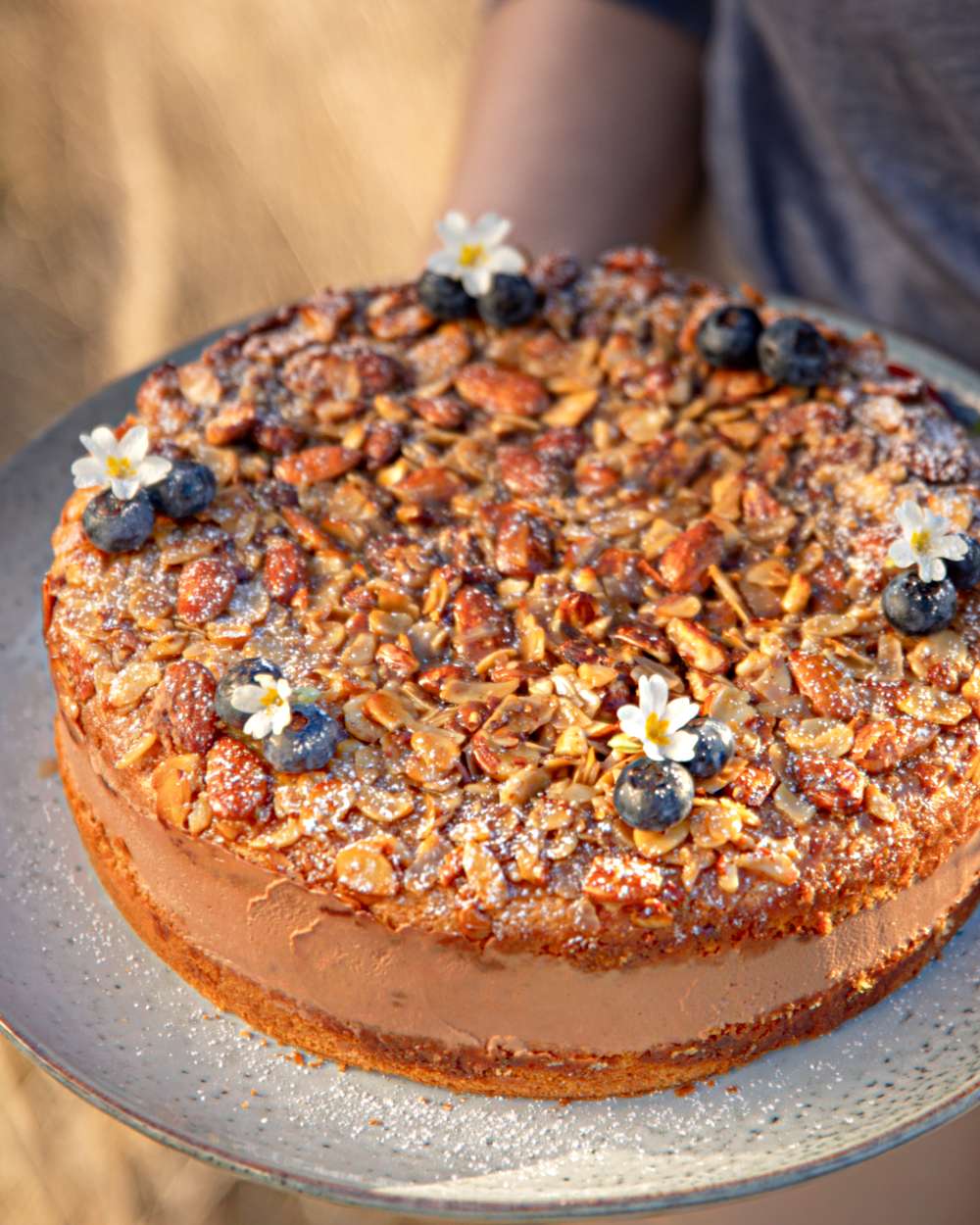 Bee Sting Cake ("Bienenstich") - strange, what do Germans eat? Wherever the name comes from - it's a traditional traybake with a fine cream filling and crunchy roasted mass of caramelised almonds on top. Our version today is a tart. Instead of yeast dough, we use sponge dough and the light cream becomes dark and chocolaty with Gianduja nougat. For the extra crunchy, luscious topping, whole almonds are caramelised alongside the typical flaked almonds. A great eye-catcher on any festive table and delicious too, of course.
For a springform pan with Ø 26 cm
cream of tartar baking powder
For the honey-almond crust:
organic lemon - grated zest
VIVANI Dark Nougat Gianduja Chocolate
Backzeit
35 minutes
Warte- / Kühlzeit
1 hour
Schwierigkeitsgrad
mittel
Preheat the oven to 180 °C hot air. Grease the springform pan with butter and dust with flour.
For the sponge dough, beat the eggs with the sugar and salt in a mixing bowl with a hand mixer for 5 minutes until light and fluffy.
Mix the flour with the vanilla and baking powder, then gently whisk into the beaten egg mixture. Pour into the prepared tin and bake in the oven for around 25 minutes.
In the meantime, for the crust, place cream, honey, butter, sugar and vanilla in a small saucepan and bring to the boil. Remove from the heat and add the flaked almonds, whole almonds and grated lemon zest. Mix well and leave to rest for a few minutes.
After the baking time, remove the sponge from the oven and spread the almond mixture evenly on top. Place back in the oven and bake for a further 10 minutes until golden brown.
Remove the finished cake from the oven, loosen the edges from the tin and leave to cool completely.
In the meantime, prepare the cream. Chop the chocolate coarsely and put it in a bowl.
Now bring 200 ml of cream to the boil briefly and then pour over the chocolate. Let the chocolate melt and then whisk until smooth. Leave to cool and refrigerate for an hour.
After the cooling time, mix the cream cheese with the chocolate mixture until creamy. Whip the remaining 200 g cream until stiff and carefully fold into the chocolate cream.
Now cut the completely cooled cake in half horizontally once with a cake knife. Place the bottom cake layer on a cake plate and stretch a cake ring around it.
Spread the nougat cream on the cake base. Place the second cake base on top of the cream with the almond crust facing upwards and press down lightly. Chill the tart until serving.
Tip: For a bit of fruity freshness, you can spread fresh raspberries, strawberry pieces or blueberries on the cream and / or the crust.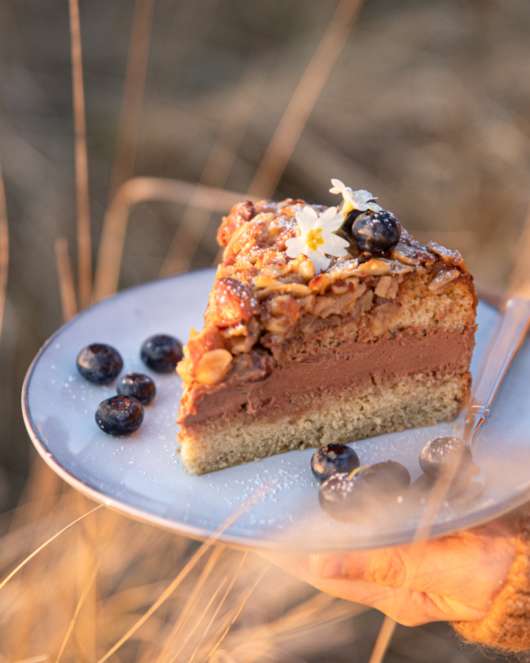 Verwandte
Wem das schmeckt, der mag auch ...
Rezepte
Verwandte Artikel
The Chocolate Journal