Caramel-Chocolate-Babka | Recipe
delicious yeast plait with dark chocolate and caramel crisp
Text:
Katharina Kuhlmann
Photography:
Roberta Dall'Alba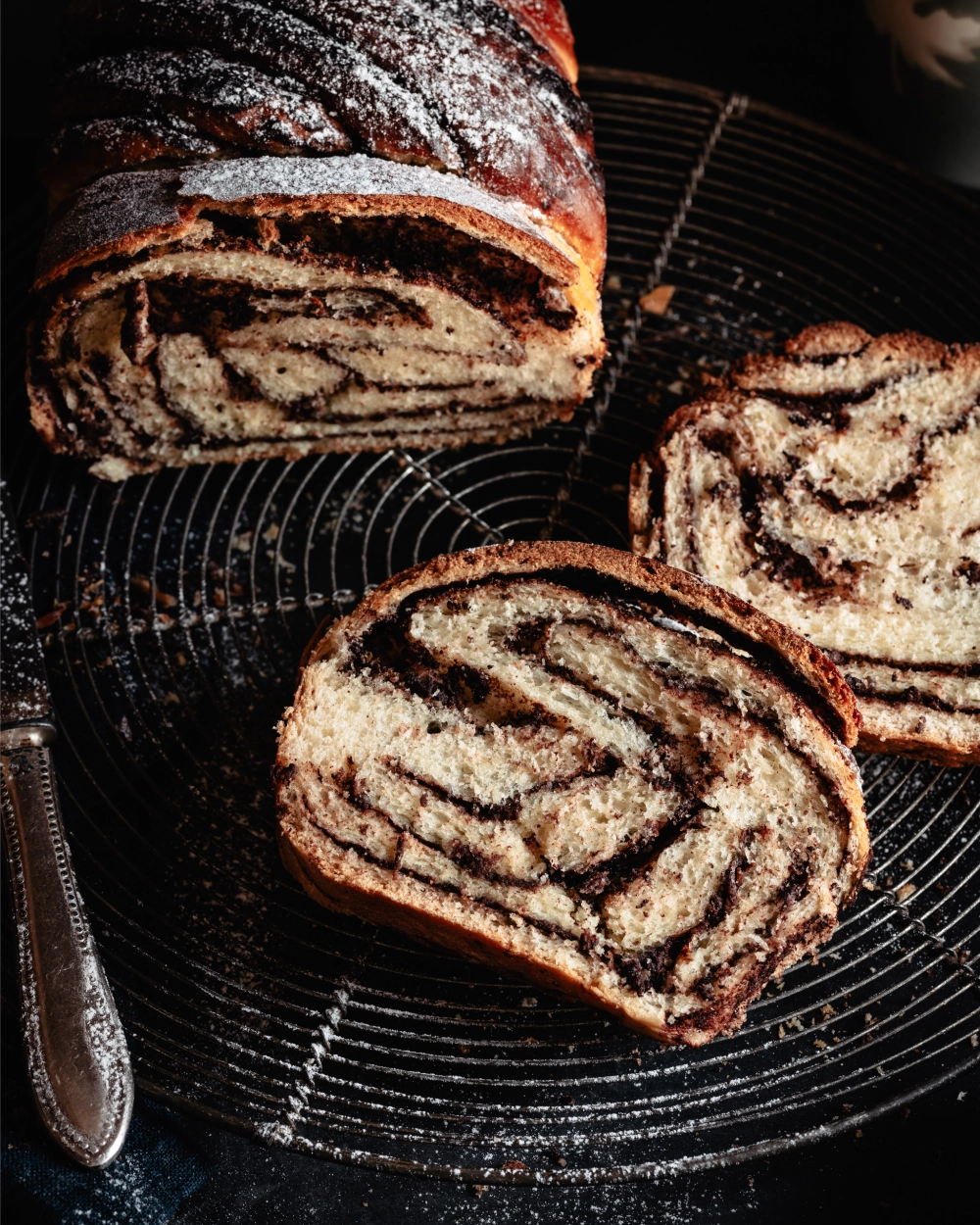 If you search a lot on the internet for recipes, you will certainly have come across one or two for babka. In recent years, the sweet pastry has become a classic, one could even say a real trend. Especially in the run-up to Christmas, many babka recipes can be found in Christmas variations. We have a great recipe for chocolate-caramel babka for you, which is not that difficult, but needs some time.
egg (at room temperature)
VIVANI Dark Caramel Mallorca Fleur de Sel Chocolate
Backzeit
30 minutes
Warte- / Kühlzeit
over night + 1 hour 40 minutes
Schwierigkeitsgrad
mittel
The evening before prepare the dough. Into the bowl of a stand mixer, pour warm (not hot) milk and yeast. Let it chill for a few minutes.
Into another bowl, place flour, together with sugar and salt.
Activate the mixer at low speed, add the egg and let incorporate.
Gradually add the dry ingredients to the milk-egg mixture. Let incorporate and then add the softened butter, one piece at a time.
Let knead for about 10-15 minutes until a nice and soft ball of dough forms. Cover the bowl and let chill in the fridge overnight (10-12 hours).

The next morning, prepare the filling: combine melted chocolate, softened butter and cocoa powder. If it's still too liquid, let it chill in the fridge until it becomes creamier and spreadable.
Take the dough out of the fridge and roll it out on a floured surface. Shape into a 30 x 40 cm rectangle.
Spread the chocolate filling with a spatula and roll up the dough starting from the long side and ending at the other long end. The result should be like a thick "cigar".
Cover the role and let it chill in the fridge for about 10 minutes.
Take it out and cut it lengthwise through the middle using a bread knife.
Lay the two halved strands next to each other with the cut edge facing up. Then lay one strand over the other so that both strands cross. Lay the lower strand over the upper strand again and continue to twist the babka in this way, similar to a plait. Important: Make sure that the cut edges always point upwards.
Carefully place it into a greased loaf pan (or a pan with parchment paper) and let it rise for 1 hour and a half in a warm place (or until doubled in size).
Preheat the oven at 175 °C. Bake the babka for 30 minutes or more, until it has a golden brown surface. The baking time for babka is tricky, because of the filling: If possible, check the centre of the dough with a baking thermometer. It should reach 94 °C. Allow to cool completely after baking.
Thanks for this delicious Chocolate Babka to Roberta Dall'Alba from the Italian food-blog Healthy Little Cravings. We also love her fantastic cinemagraphs – real eye candy!
Verwandte
Wem das schmeckt, der mag auch ...
Rezepte