Chocolate Ganache Tart | Recipe
Supreme vegan chocolate delight
Text:
Katharina Kuhlmann
Photography:
© Holly Jade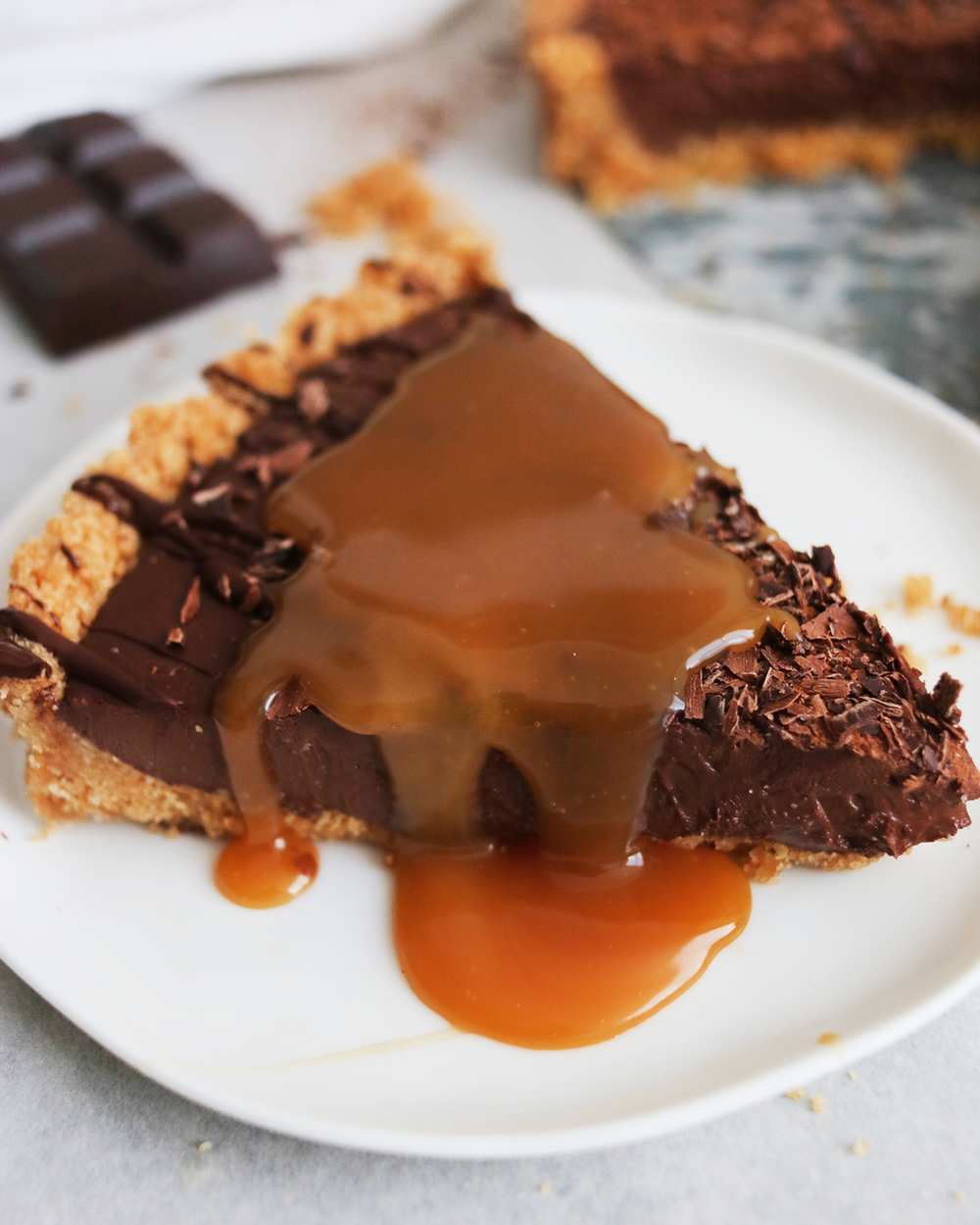 This Chocolate Tart is quickly made and tastes deliciously chocolaty. No wonder, since it contains around 300 grams of Dark Cooking Chocolate. And that's not all - we also decorate it with a drizzle of melted and some grated chocolate. If you're still feeling good, you can serve it additional with (homemade) caramel sauce - oh my gosh....
dairy-free butter or margarine
For the chocolate filling:
VIVANI Dark Cooking Chocolate
coconut milk (cream only)
For the Toppings (optional):
melted VIVANI Dark Cooking Chocolate
VIVANI Dark Cooking Chocolate shavings
Warte- / Kühlzeit
2 - 3 hours
Schwierigkeitsgrad
einfach
Line a tart tin with greaseproof paper.
To make the crust, place the biscuits into a food processor / blender and whizz up until crumb-like.
Melt the butter or margarine, pour into the biscuits and mix together until like wet sand.
Firmly press the biscuit mixture into the lined tin until its compact. Place into the fridge or freezer whilst making the filling.
To make the chocolate filling open a can of coconut milk, drain the clear liquid part and only use the thick white cream.
Place the cream into a medium-sized saucepan, and heat on medium until it comes to a low boil.
Break the Cooking Chocolate into pieces and place into a heatproof bowl.
Pour over the hot cream and allow to sit for a few minutes. Then stir together.
The cream will melt the chocolate.
Pour the filling onto the crust and level with a spoon or offset spatula.
Place into the freezer for 2 – 3 hours, or until set.
Decorate the tart with a drizzle of melted and a bit of grated Dark Cooking Chocolate. Serve with a drizzle of (homemade) caramel sauce.
Tip: Store in a sealed container in the freezer and best eaten within a few days.
Many thanks to Holly Jade from The Little Blog Of Vegan, who created this fantastic tart for us!
Verwandte
Wem das schmeckt, der mag auch ...
Rezepte