Strawberry Chocolate Tiramisu | Recipe
… creamy-dreamy with White Vanilla Chocolate
Text:
Katharina Kuhlmann
Photography:
© Roberta Dall'Alba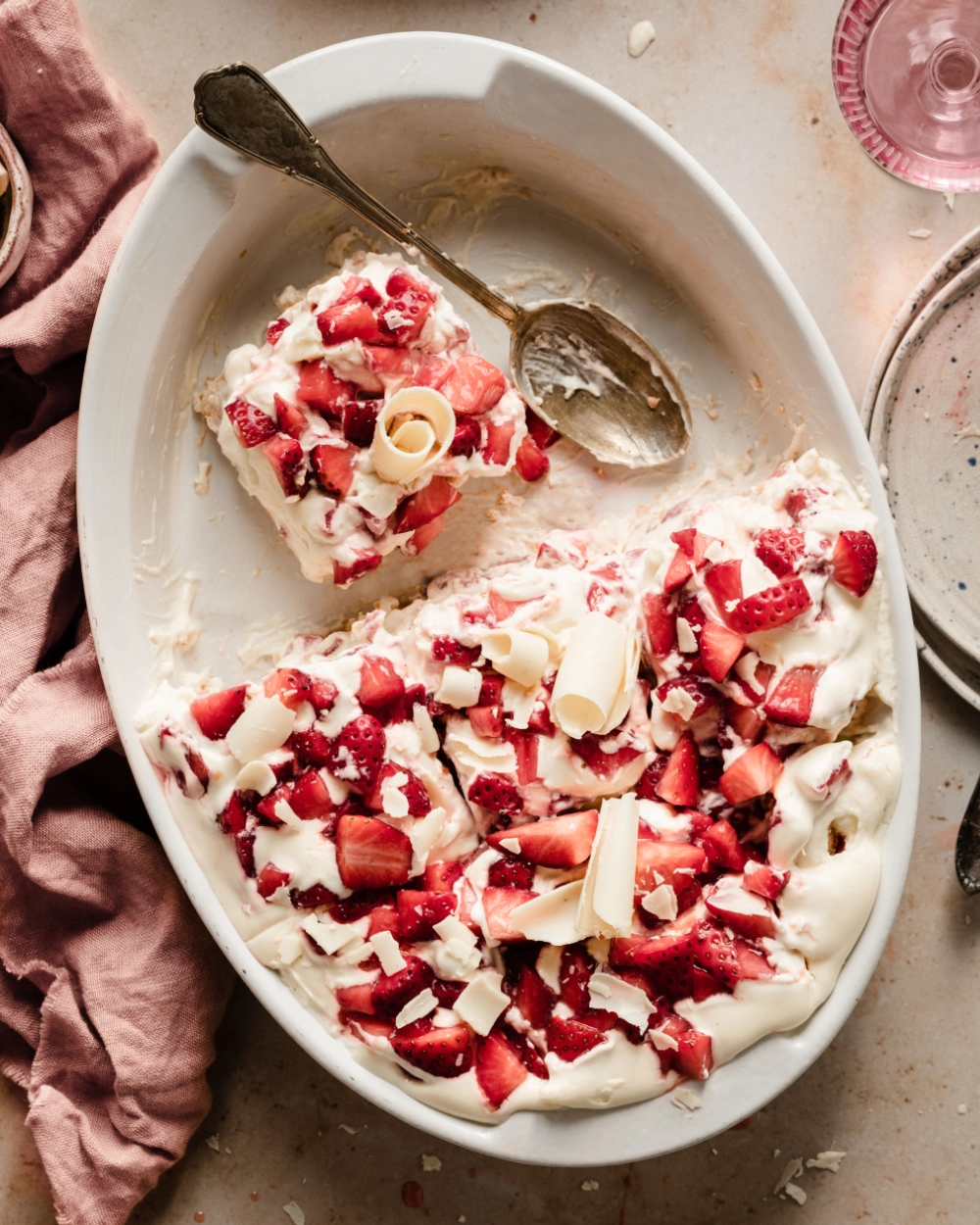 What could be better than fresh strawberries? Exactly: fresh strawberries in a creamy white chocolate tiramisu. Our dessert tip of the season is made in no time and is fantastically delicious - without any alcohol. This is what spring tastes like.
For a 27x20 cm oval casserole dish
VIVANI White Vanilla Chocolate
chocolate shaves from VIVANI White Vanilla Chocolate
Warte- / Kühlzeit
a few hours or overnight
Schwierigkeitsgrad
mittel
First prepare the strawberries. Clean them and cut into small pieces. Add to a bowl, with sugar, lemon zest and juice. Stir. Cover, set aside and let macerate for about 30 minutes.
In the meantime, melt the white chocolate carefully in a bain-marie. Let cool to room temperature.
Then prepare the cream. In a little pan, add sugar and water, let melt at low heat until it reaches 120 °C (until it forms small bubbles). Turn off the heat.
Add egg yolks into a stand mixer, start beating at high speed. Then slowly add the sugar syrup. Beat for about 4-6 minutes until it's light and fluffy.
Add a tablespoon of the cream to the mascarpone to soften it. Add mascarpone back to the rest of the egg cream. Also add vanilla extract. Stir carefully and put into the fridge.
Whip the heavy cream until firm. Take the mascarpone cream out of the fridge, add the heavy cream and gently incorporate. Put the mixture back into the fridge.
Drain the strawberries but retain the juice. Now you can layer the tiramisu. Quickly dip each ladyfinger into the strawberry juice on both sides. Place them into the pan in a single layer. Now add cream and smooth it down. Then comes a layer of strawberries.
Make a second layer of ladyfingers, then cream and strawberries. Cover and let get firm in the fridge for a few hours or overnight.
Before serving, you can decorate the tiramisu with some white chocolate shaves.
Thanks for this creamy strawberry delight to Roberta Dall'Alba from the Italian food-blog Healthy Little Cravings. We also love her fantastic cinemagraphs – real eye candy!
Verwandte
Wem das schmeckt, der mag auch ...
Rezepte