Millionaire's Shortbread | Recipe
Luxurious chocolate-caramel version of a Scottish classic
Text:
Katharina Kuhlmann
Photography:
© Karin Buhl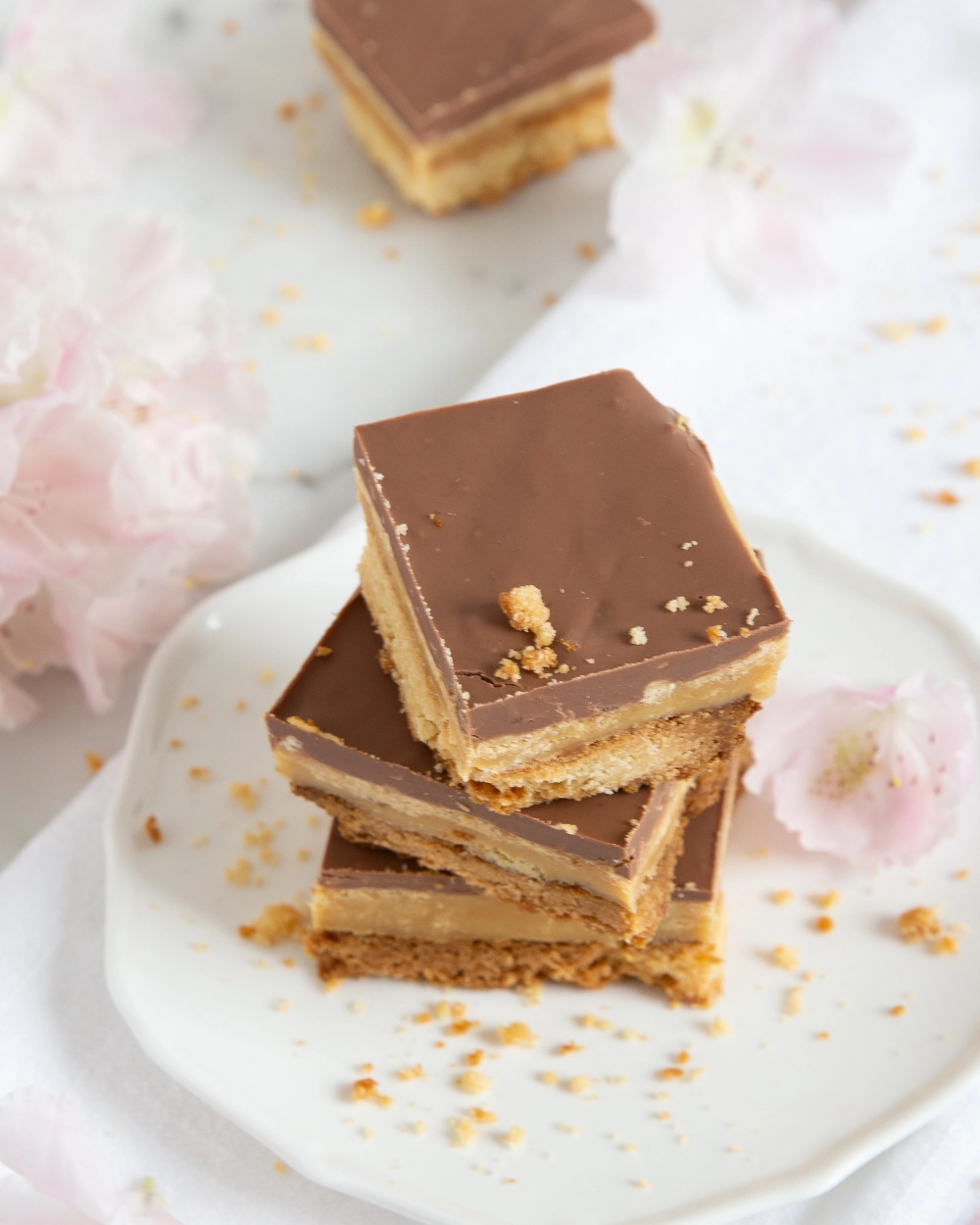 Friends of British pastries are of course familiar with shortbread, the delicious butter biscuit from Scotland that crumbles so delightfully. How the luxury edition of the traditional biscuit came about is not really clear. In any case, unlike the original, the Millionaire's Shortbread contains a delicious and sweet caramel layer and a rich chocolate icing. The first recipes appeared in Australia and Scotland in the 1970s and have since sweetened the day in their many variations, and not just for millionaires.
For a 20x30 cm rectangular baking tin
VIVANI Milk Cooking Chocolate
Backzeit
25 - 30 minutes
Warte- / Kühlzeit
at least 3 - 4 hours
Schwierigkeitsgrad
einfach
For the dough, preheat the oven to 180 °C top / bottom heat. Grease the baking tin or line with baking paper.
Using a hand mixer, beat the soft butter with the sugar until creamy. No more sugar crystals should be noticeable.
Mix the flour and salt and sieve over the buttercream. Mix just until a dough comes together.
Pour the batter into the prepared tin, prick several times with a fork and bake in the preheated oven for approx. 25 - 30 minutes until light brown. Then leave to cool completely.
Meanwhile, prepare the caramel layer. To do this, heat the sweetened condensed milk with the butter in a saucepan, stirring constantly.
Slowly bring to a simmer and allow to boil down until a thick consistency is reached. This may take about 15 - 20 minutes.
Spread the finished caramel over the shortbread layer in the tin, smooth it out and leave to cool completely for about 2 - 3 hours.
Finally, slowly melt the chocolate with the butter in a pan and pour onto the cooled caramel layer. Leave to harden at room temperature.
Before eating, cut the Millionaire's Shortbreads into squares.
Verwandte Artikel
The Chocolate Journal